So now that you have a few feathery friends to take care of, you're worried about what to feed them. Don't worry; you're in the right place. While taking care of quails, it's evident to wonder about what their proper diet plan should be. We're here to address those confusions and lead you straight.
So, are you eager to know what you can and can't feed your quails, besides quail feed? Keep reading to learn everything!
Can quails eat chicken food?
Just like other birds, quails need a diet plan that can cooperate with their dietary and health needs explicitly. With that being said, it's important for quail keepers to know that chicken feed shouldn't be a part of their diet.
Chicken feed can't provide them with the minerals and vitamins that they solely require. Therefore, if you decide to feed your quail chicken feeds, you must also supplement them with additional requirements according to their health needs.
Can I feed my quail chick starter?
Generally, quail chicks are put on starter diets as soon as they hatch. This feed is continued as their diet till they reach around six to eight weeks. Starter diets have maximum protein levels, which is necessary for a bird's growth during its lifespan.
Can quail eat lentils?
Many quail lovers are unaware of this fact, but lentil's inclusion in the quail's diet plan can be generously valuable for them. When lentils are included as a byproduct in the diets of laying quails, it can boost their egg production and also the formation of the yolk's yellow pigments.
Can quail eat pellets?
People often misjudge what to feed quails with respect to their size. However, quails can ingest fair amounts of pellets.
Moreover, larger quail breeds like Japanese, Coturnix, and Italian quails can also eat mixed corns and layered pellets. However, it's a recommendation by experts to mash the portions into bite-sized pieces so that it's easier for them to munch on and digest.
Can quails eat chicken eggs?
Here's a fun fact; quails absolutely love eggs!
Eggs are a safe and nutritious option for quail's diet plans. You can hard boil the eggs or leave them for a few days so that the eggs dry up and somewhat hardens. You can later chop them up finely into granules for easier intake by the quails.
Can you feed quails chicken food?
We've already talked about feeding quails chicken feed. It's not a crime to do so. However, the components within a chicken feed can never make up for any existing deficiency that a quail may have.
If you're unaware of your quail's deficiencies, then you must strictly stick to generic dietary plans and commercial feeds that can boost your quail's overall health and well-being.
Do quail eat pecans?
In addition to having pecans, quails can also eat and digest fruits, berries, legumes, and nuts. One of the major plus points is that quails will never intake anything toxic unless they've starved for a while.
Do quail eat grass?
Here's news for everyone reading this article. Yes, quails do eat grass. Grass can add to the existing health benefits of quails. These are healthy alternatives and can be mixed with small portions of fruits or green vegetables.
Moreover, grass intake can also contribute to providing quails with additional water; thus, the birds can stay healthy and hydrated for a longer time.
Do quail eat worms?
Quails love and enjoy munching on various types of bugs, spiders, grubs, and worms. If you want to extend their palette, you can try incorporating these into their diets sometimes.
Having insects can boost the protein levels in quails immensely; thus, it's a great choice.
Do quails need oyster shells?
Oyster shells can become an amazing layer feed for quails as they can provide calcium needs, which is an absolute must for making super thick and strong eggshells. Moreover, did you know that quails can lay an egg per day?
Yes, they do, and thus they are constantly in need of calcium replenishments and in hefty amounts to produce eggs that can withstand the outer world. Therefore, incorporating oyster shells can be incredibly beneficial for these birds.
Do quails need supplements?
Like all other pets and birds, quails are no exceptions as they require some essential and necessary levels of minerals and vitamins in their diets every day too. These supplements can make up their diet and fill the gaps through plants, seeds, and other grains that can be found in the wild.
Can quail eat peanuts?
Generally, birds eat almost everything. Quails love nuts too, and peanuts have to be somewhere at the top of that list.
However, bird owners must only feed the quails fresh peanuts as they're susceptible to mold. And ingesting this growth along with the peanut can turn out to be quite dangerous and poisonous for the bird.
Can quail eat potatoes?
Even though it's said that birds eat almost everything, it doesn't necessarily mean that they should. There are many foods that are highly dangerous and harmful for quails.
And the list includes citrus fruits, uncooked potatoes, salty treats, tomato plant leaves and stems, rhubarb, meat, grape seeds, chocolates, caffeine, and avocado.
Can quail eat scrambled eggs?
We've already established that quails love eggs. Just like hard boiled eggs, quails see scrambled eggs as a delicious treat and food source. Hence if you'd like to switch things up a bit, you can try feeding them scrambled eggs.
Can quail have grapes?
Citrus fruits are harmful to quail's health. However, quails love biting into grapes, cucumbers, and apples, and these can be an excellent source of nutrition for them.
Can quails eat rice?
You'll be surprised at how fast quails can finish up a ration of uncooked rice. Yes, they absolutely love rice, so you can supplement these into their diets.
Moreover, you'll also be impressed by how much rice they can go through in a day, and that's simply because they can and love to eat larger portions of it.
Do quails eat vegetables?
Quails can eat vegetables, so you can try the following items if you'd like to take turns and offer them a few variations. Try offering turnip greens, lettuce, peas, cucumber, carrots, cabbage, and broccoli.
Do baby quails need water?
Yes! Yes! Yes!
Quail babies need water too. For the babies, merely a few ounces should suffice. This can help them in feeling refreshed thoroughly throughout the day, regularly. However, here's a cautionary note that quail pet owners must remember.
Quail babies have a tendency of falling asleep in their water bowl. Evidently, that's dangerous as they could drown, so keep an eye out when they're replenishing their fluid intake.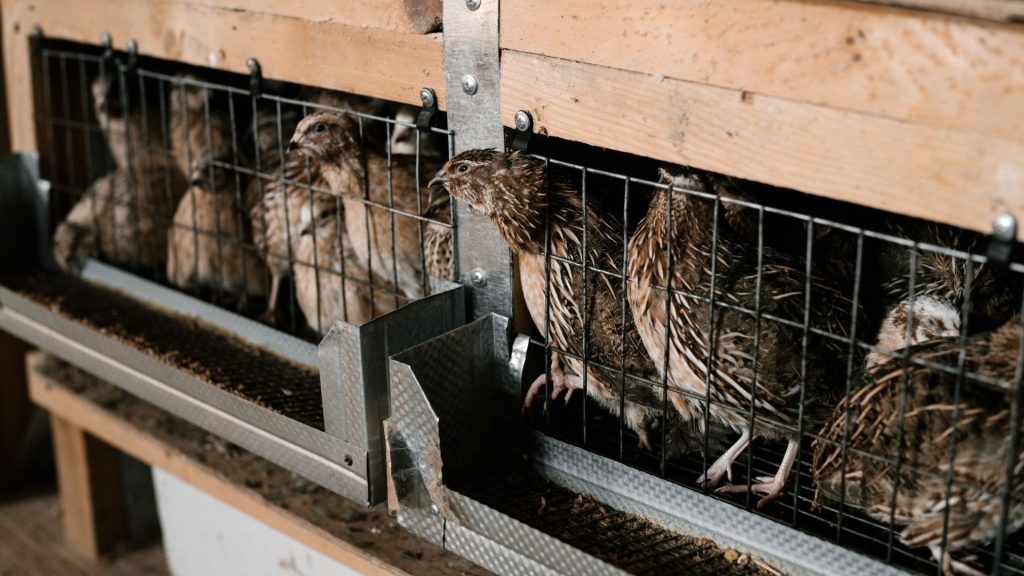 Conclusion
Quails are tiny, cute love balls. They deserve all your love and attention. And you can't deny that bringing them up requires diligent practice and immense knowledge. So, now that we've answered some of the most basic do's and don'ts, we hope you and your new feathery friend can get on the perfect dietary plan!