Chickens are beloved by many people around the world for their charming personalities and delicious eggs. However, one aspect of chickens that is often overlooked is chicken feathers.
Chickens have unique feather patterns and colors that are not only beautiful but also serve important functions. In this blog, we'll explore the fascinating world of chicken feathers.
You may also want to read about the best chicken feed for their best health.
Types of Chicken Feathers
Chickens have several different types of feathers, each with a specific purpose. The most common types of feathers found on chickens are:
Contour feathers: These are the long, strong feathers that cover most of the bird's body. They provide protection and insulation, and also help with flight.
Down feathers: These are the soft, fluffy feathers that are found beneath the contour feathers. They provide insulation and help to regulate body temperature.
Filoplumes: These are small, hair-like feathers that are located near the base of contour feathers. They provide sensory information to the bird, allowing it to detect changes in air pressure and movement.
Semiplumes: These are intermediate feathers that have characteristics of both contour and down feathers. They provide additional insulation and help to create a streamlined appearance.
Chicken Feathers Colors and Patterns
Chickens come in a wide variety of feather colors and patterns, with some breeds having more distinctive feathers than others. Some of the most common feather colors and patterns found on chickens include:
Black: This is a solid, deep black color that is found on several breeds, including the Black Australorp and the Black Jersey Giant.
White: This is a pure white color that is found on several breeds, including the Leghorn and the Plymouth Rock.
Red: This is a reddish-brown color that is found on several breeds, including the Rhode Island Red and the New Hampshire.
Buff: This is a pale yellowish-beige color that is found on several breeds, including the Buff Orpington and the Buff Brahma.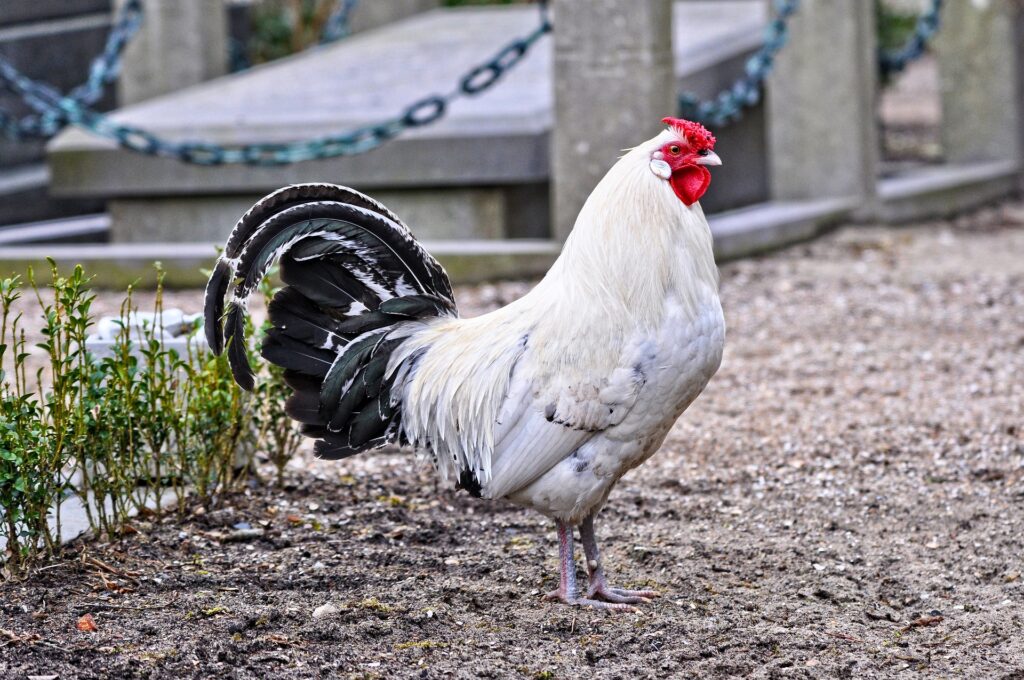 In addition to solid colors, chickens can also have feather patterns that are striped, spotted, or speckled. Some breeds, such as the Plymouth Rock and the Barred Rock, have distinctive black-and-white striped feathers.
Functions of Chicken Feathers
Feathers serve several important functions for chickens, including:
Insulation: Feathers provide insulation, helping to regulate body temperature and keep the bird warm in colder temperatures.
Protection: Contour feathers provide protection against predators and the environment, while down feathers provide padding to protect against injury.
Flight: Some breeds of chickens, such as the Leghorn, have large, strong wings that allow them to fly short distances.
Communication: Chickens use their feathers to communicate with each other. For example, when a chicken is afraid or threatened, it will raise its feathers to make itself appear larger and more intimidating.
Chicken Feathers Health
Feather health is an important aspect of overall chicken health. Healthy feathers are shiny, smooth, and well-groomed. Feathers that are dull, rough, or ragged can be a sign of poor health or nutritional deficiencies. Here are some tips for maintaining feather health:
Provide a balanced diet: Chickens need a balanced diet that includes protein, vitamins, and minerals in order to maintain healthy feathers.
Keep the coop clean: A clean coop will help to prevent parasites and other pests that can damage feathers.
Provide dust baths: Chickens need to take dust baths in order to keep their feathers clean and healthy. A dust bath is a shallow container filled with dry dirt, sand, or ash that the chicken can use to clean itself.
Handle with care: Rough handling can damage feathers and make the chicken more vulnerable to injury and disease.