Gamefowl roosters, also known as fighting roosters, have a long and controversial history. While cockfighting is illegal in many parts of the world, gamefowl roosters are still kept and bred for their unique physical and behavioral characteristics.
In this article, we'll take a closer look at the gamefowl rooster and its history, as well as some of the controversies surrounding this breed.
You may also want to read more about chicken care.
History of the Gamefowl Rooster
Gamefowl roosters are believed to have originated in Asia, where they were first domesticated and selectively bred for their aggressive and competitive nature. These roosters were brought to Europe and eventually to the Americas by early settlers, where they became popular for cockfighting.
Cockfighting involves two gamefowl roosters being placed in a ring or pit and forced to fight until one is either killed or severely injured. This practice has been outlawed in many countries due to concerns over animal cruelty, but it still persists in some regions where it is considered a traditional or cultural practice.
Physical Characteristics of Gamefowl Roosters
Gamefowl roosters are bred for their unique physical characteristics, which can vary depending on the breed. However, there are some common traits that are often seen in gamefowl roosters, including:
Muscular build: Gamefowl roosters are bred to be muscular and powerful, with strong legs and wings.
Aggressive behavior: Gamefowl roosters are known for their aggressive and competitive nature, which makes them well-suited for cockfighting.
Distinctive appearance: Many gamefowl roosters have distinctive features like long tail feathers, brightly colored plumage, and a comb and wattle on their head.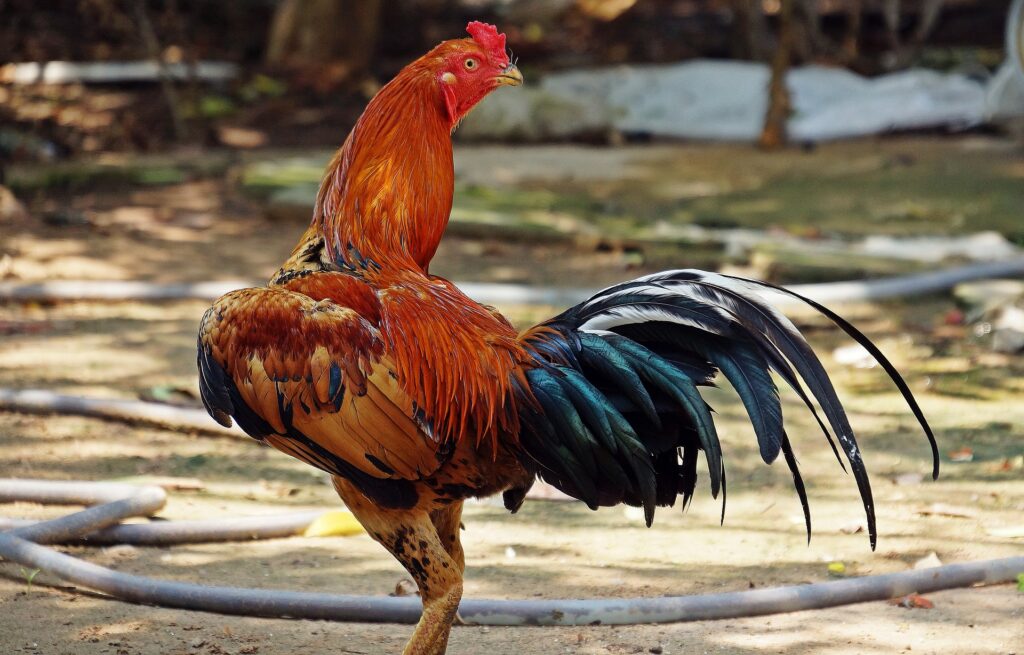 Controversies Surrounding Gamefowl Roosters
Gamefowl roosters have been the subject of controversy due to their association with cockfighting, which is considered a cruel and inhumane practice by many animal welfare advocates. Cockfighting involves subjecting the roosters to extreme stress, pain, and injury, often resulting in death or permanent physical damage.
While cockfighting has been outlawed in many countries, there are still regions where it persists as a cultural or traditional practice. This has led to ongoing debates over whether gamefowl roosters should be bred and kept for fighting purposes, and whether or not they should be considered a legitimate breed of chicken.
However, there are also many people who keep gamefowl roosters for non-fighting purposes, such as breeding or exhibiting them at poultry shows. In these cases, the roosters are not subjected to the same levels of stress and injury as in cockfighting, and are instead valued for their unique physical and behavioral characteristics.
Care and Maintenance of Gamefowl Roosters
If you are interested in keeping gamefowl roosters, it's important to understand the care and maintenance they require. Here are a few tips to help you get started:
Provide Adequate Space: Gamefowl roosters are strong and active birds that require plenty of space to move around. They should be kept in a spacious coop or pen with plenty of room to spread their wings and stretch their legs.
Feed a Nutritious Diet: Gamefowl roosters require a balanced and nutritious diet to maintain their health and energy. Their diet should include high-quality protein sources like chicken feed, as well as fresh fruits and vegetables.
Provide Plenty of Water: Like all chickens, gamefowl roosters require plenty of fresh, clean water to stay hydrated and healthy. Make sure they have access to clean water at all times.
Monitor for Health Issues: Gamefowl roosters are prone to certain health issues, including respiratory infections and parasitic infestations. Regular monitoring and care can help prevent and treat these issues.
Consider the Legality: Before deciding to keep gamefowl roosters, it's important to research the laws and regulations in your area. In many places, cockfighting is illegal, and keeping gamefowl roosters may also be prohibited.
Conclusion
Gamefowl roosters are a unique and fascinating breed of chicken that have been bred for their aggressive nature and fighting ability. While cockfighting is illegal in many parts of the world, gamefowl roosters are still kept for their beauty and unique characteristics. If you are interested in keeping gamefowl roosters, it's important to understand the care and maintenance they require, as well as any legal considerations in your area. With proper care