The demands of raising chickens can vary quite a bit across the different seasons. In warm weather, you have to account for overheating and swat away insects. In the rainy season, you must ensure your coop doesn't get flooded.
But one of the most difficult tasks to accomplish, especially for those living in a colder climate, is preventing flock dehydration in winter. No matter how efficient your chicken waterer is, water inside it will freeze up and prevent your chickens from getting a drink.
That's why you need the best chicken water heater. This way, you won't have to replace your existing waterer, and your flock will be protected against the perils of dehydration. Find below the 6 best ones reviewed.
Quick View: 6 Best Chicken Water Heater
Benefits of Chicken Water Heater
In lower temperatures, the water in your chicken waterer will start to freeze. Now, if your chickens are smart, they will know how to peck through the ice layer to get to the drinkable liquid water beneath.
However, not only is that leaving a lot up to chance, there will come a time when the ice layer is too thick for your chickens to peck through, leaving them unable to drink water. A chicken water heater prevents this.
Due to their small size, it can be hard to believe that chickens require up to a liter of water daily to stay in good health. But going without water for too long can cause your flock to get sick.
For one, going without water for up to 48 hours is enough to kill a chicken from dehydration. Secondly, dehydration also decreases egg production—as you may already know, an egg is made up of nearly 85% water. So in order to lay healthily, chickens need water!
Moreover, investing in a water heater also decreases chicken flock maintenance downtime for you. Once the water starts freezing, you'll have to make several trips back and forth from the coop to break up the ice in the chicken's waterer. With a dedicated heater for chicken water, however, you can relax!
Best Chicken Water Heater Reviews
We know how frustrating it is to keep breaking up ice so your chickens can stay hydrated. No more! Pick from our top 6 chicken water heater reviews below.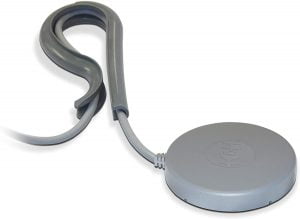 If you water your chickens using a pail with nipple feeders, this bucket deicer from K&H is the perfect solution to keep the water fresh and unfrozen for your chickens. It's easy to use, energy-efficient, simple and straightforward. Plus, with its enamel finish, it's easy to keep this deicer clean for long-term usage.
Capable of deicing up to 16 gallons of water, this little guy is ideal for those of you tending to large flocks of chickens. No matter if your chicken's water pail is made from plastic or metal, this thing can take care of your chickens' drinking needs during the frosty winter.
Using this thing is easy and sustainable as well. It only uses 80 watts of electricity, so don't worry too much about increased bills. Besides, given that this deicer is automatically thermostatically controlled, there's no need to incorporate a separate unit for temperature control.
For those who use a pail-style waterer for their chickens, it's difficult to go wrong with this offering from K&H. We love everything about it, from its design and low electricity consumption to its self-regulating capabilities.
Although the cord is quite stiff and also short (at less than 5 feet), unfortunately, that's a commonly seen issue. Remember, this device is meant to be used only with pails; if you require a water heater for another type of waterer, you can check out K&H's other offerings.
---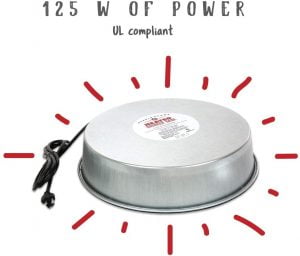 Our next pick, from Harris Farms, has been selected for use with metal and plastic chicken water founts (or bell-style waterers). This base heater is the ideal selection for hassle-free automatic water heating for your chickens. Let's see what it has to offer.
With a simple and no-nonsense design, this base heater is super easy to use. All you have to do is plug it in and set your chicken waterer on top of it to start the thawing process. You won't have to worry about manually starting or stopping the heater as it does this by automatically detecting temperature changes.
An important consideration is that this heater can only take care of unfreezing water at up to 10° F, so if you live in extremely cold sub-zero temperatures, this might not be the one for you.
Furthermore, it's undeniable that this water heater is quite expensive, and it might not be the most sustainable choice for those of you on a budget.
The efficacy of this water heater is easily evidenced by its simple usage and efficient water heating. Yes, it's quite expensive, but its high ratings make it evident why that is.
There are some reports, however, that the thermostat isn't built to last; however, if you use this heater in the appropriate conditions and don't allow it to be submerged in water, you should be good to go.
---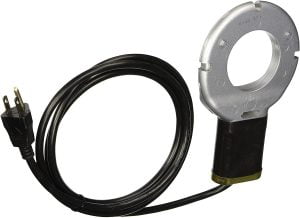 From Farm Innovators, we bring you one of the most popular deicers to be found on the market. This little guy is compatible with 5-gallon buckets with side-mounted or gravity-fed nipples or any other kind of nipple waterer. Using only 150 watts of power, this is also one of the most sustainable deicers you'll find.
The best thing about this deicer is that it's fully submersible, so you can keep your chicken water thawed without worrying about the deicer's health.
What's more, it has a Teflon coating, which not only enhances its durability but keeps corrosion and calcium deposits at bay. This contributes to keeping your chicken's water clean and reduces downtime for you.
Speaking of reduced downtime, you'll be pleased to learn that this deicer is, like the best of them, thermostatically controlled! Plus, it's safe for use with both plastic and metal waterers, so that's even fewer details for you to worry about.
If you're on the hunt for a dependable and efficient submersible chicken water heater, it makes all the sense to turn to this offering from Farm Innovators. Not only is it sustainable in terms of energy consumption, but it's also compatible with most nipple-style waterers.
And most impressively, it's thermostatically controlled. Although we wish the power cord was longer, once again, that seems to be a problem with most chicken water heaters.
---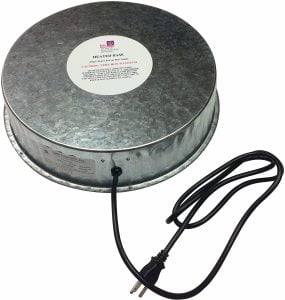 We've had a look at Farm Innovators' deicer for nipple style waterers; now it's time to turn to their accompanying heater for metal fount type waterers. This sturdy and efficient base heater is the ideal selection for those of you tending to large flocks.
Made from galvanized metal and equipped with a thermoplastic heating base, this heater is designed for use only with double-wall metal water founts.
It can prevent your chicken's precious drinking water from freezing, and its thermostat automatically starts the process once the temperature drops below 35° F. You'll appreciate the fact that it's suitable for use not only in coops and pens but also runs.
As far as energy consumption goes, this water heater utilizes relatively low levels of electricity at only 125W. And since it's thermostatically controlled, it'll only turn on when it needs to!
Plus, this heater is fully capable of taking care of itself, thanks to a well-fitting bottom cover that prevents any debris or dirt from interfering with the heater's components.
This chicken coop water heater is a great choice if you're looking for ways to keep the contents of your double wall fount metal waterer unfrozen. It's durably built and automatically operated, so it requires low effort from you.
However, some users have faced an issue where the water is heated a bit too much, which might actually be counterproductive as it allows other organisms to grow.
---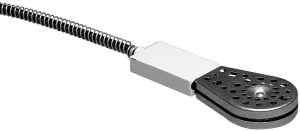 Do you feed your chickens from a nippled pail but aren't interested in using a base heater? Then you'll certainly appreciate this simple submersible deicer from API. It's designed to be submerged in not only chicken waterers but also in birdbaths, so you can get versatile usage out of this thing as well!
Equipped with a built-in thermostat, this deicer is able to detect changes in temperature and activate or deactivate itself accordingly. So although it uses more electricity than other deicer models (200 watts), it actually lowers your bills in the long run.
Besides, this deicer has the longest cord, of 6 feet, out of all of the heaters we've reviewed.
Our favorite thing about this deicer, though, is its design. Not only is it easily submersible, but it also comes with an adjustable clamp that allows for easy and efficient mounting to pails, buckets, or other containers such as birdbaths.
And don't worry about the health of the heater, as its heating element is fully protected and impossible for animals to meddle with.
You need to take only one look at this deicer's high rating to understand how popular it is. And it's easy to understand why, given its efficient and consistent heating capabilities, convenient design, and durable build.
Although it uses a little more electricity than other similar models, that's hardly a dealbreaker, especially given its efficient thermostat.
---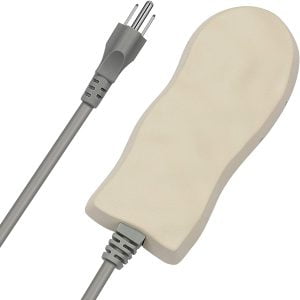 Our final pick for you today is a birdbath heater from Gesail. Now, you might be wondering how a deicer for a birdbath ended up on our list of chicken water heater reviews, but hear us out.
If you have a small flock that drinks from a fount, pail, or nipple feeder, this submersible heater can do everything a chicken water heater can.
In fact, this is the perfect choice if you're on a budget and are looking to reduce electricity consumption by heating your chickens' water. Because not only is this the most affordable chicken water heater on our list, it's also the most energy-saving, with a power rating of only 50 watts.
And don't worry, it is thermostatically controlled, too! Plus, it's suitable for use with waterers of various materials, from metal and plastic to stone and glass. Yes, this is because this deicer is originally intended for use with birdbaths, but that's what enhances its versatility!
All that said, we would certainly not recommend this little guy if you have a medium to large-sized flock. Remember, its size and capacities make it appropriate only for a small flock.
If you're looking for a low power consuming deicer on a budget, you won't have to look much further than this Gesail birdbath heater. It's thermostatically controlled, submersible, and easy to use– all you have to do is plug it in and leave it in your chicken waterer.
Do remember, however, that this is not an appropriate option if you're dealing with the watering needs of a medium to large flock.
---
Things to Consider Before Buying
Not sure which chicken water heater is best suited to the needs of both you and your flock? Consider the following factors to make an informed decision.
Heater Type
There are four main water heater types for chicken waterers. Let's have a look at each type in turn.
● Base Heater
As the name might suggest, a base heater goes underneath your chicken waterer and warms it from the bottom up. Typically, these are electrically powered.
An electric chicken water heater is a good idea if you want a way to heat up the water in your existing waterer without having to buy a whole new unit. If you do go with one of these, make sure it has a concealed bottom so as to keep out rats and water.
● Built-in Heater
But if you have an automatic waterer, a built-in heater is probably the right option for you. As they are placed inside the waterer itself, there is a lower risk of exposure to the elements, your chickens, rats, or any other disturbing elements.
● Water Bowl Heater
Similar to a base heater, a water bowl heater goes well with an open waterer. However, since the heating element is placed underneath the bowl, there is a greater risk of exposure. So choose wisely.
● Deicer
Do you use a nipple-style chicken waterer? If so, a deicer is a good option. They're submergible, so they can be placed directly at the bottom of the waterer; they usually come with thermostat control and have low energy consumption levels (usually around 150 watts).
Construction Material
The material used in the build of your water heater will determine not only its performance and durability but whether it's safe for use.
If, for example, you like to add apple cider vinegar to your chickens' water supply (in a bid to regulate their pH levels), you should avoid metal as it can be corroded by the ingredient. Plastic, on the other hand, although dependable, might not offer the best durability.
Ease of Use
Taking care of chickens can be quite a hassle when you're in a bad mood or have a packed schedule. The aim of a water heater is to reduce the time and effort required to keep your chickens properly watered.
So, aim to buy a water heater which does not get in the way of easy water filling. Furthermore, it should, of course, be easy to keep clean without harming its internal components. So look into the heater's design to determine ease of use.
Thermostat
Cold weather and its effects on your flock can be quite unpredictable. You can't always be around to regulate the temperature of your waterer's contents (and take necessary actions).
So, it's best to go with a water heater that comes with its own thermostat. That way, as soon as the temperature drops, your water heater will get to work.
Do note, however, that there's always a chance the thermostat will malfunction, especially with low-quality heaters. In that case, your chickens might end up being dehydrated if the water doesn't thaw in time. So be careful where you spend your money.
Maintenance
Just like your chicken waterer needs to be properly maintained, the same is true for its heater. If you expect your water heater to do all the work, you'll be in for an unpleasant surprise.
And if the heated water is left stagnant, algae and other bacteria will easily form on the surface of it. Once again, this will result in your chickens being under-watered.
So before you buy the water heater, start by checking how frequently the water must be changed when it's being heated. The ease (or relative difficulty) of doing so should also be considered. Usually, you'll be able to wager a pretty well-informed guess simply by considering the water heater's design.
Frequently Asked Questions
1. How much electricity does a chicken water warmer use?
Thankfully, modern chicken water heaters are designed to be sustainable in terms of power consumption. This heater from Farm Innovators is great for energy-saving purposes.
2. How much water does a chicken need to drink every day?
In the cold to temperate weather, a fully grown chicken will require at least 0.5 liters of water per day. In warmer weather, this can go up to 1 liter.
3. How many times a day should I refill my chicken waterer?
Depending on the size of your flock, you might have to refill your chicken waterer at least once or twice a day. The goal is to try to ensure that they have fresh water.
4. What kind of water should you give your chickens?
It's okay to give your chickens the water you yourself drink.
5. How many waterers do I need for my chickens?
You should aim to supply one waterer for every 10-12 birds.
6. Where is the best place to put my chicken waterer?
You should aim to place the waterer in a shaded and protected area where the water will be safe from the elements. Also, you can choose to hang the waterer to prevent your chickens from defecating in it.
Final Words
We hope that we have enabled you to find the best chicken water heater for your needs.
Although the right one depends on the type of waterer you use, the size of your flock, etc., we'd be lying if we didn't express our preference of the Farm Innovators submersible deicer. In base heaters, our top pick is this poultry drinker base from Harris Farms.
May your flock always be hydrated!