It is almost that time of the year when everything freezes over, and we wonder how we will water our brood of chicken. While winter brings with it several problems, lack of water is an issue you can do without.
If you can get your hands on the best chicken waterer for winter, then you can bypass the issue of frozen water. Your chickens don't enjoy ice cream or frozen water, which makes it even more essential that you have a way to water them when all the water freezes.
However, few people know where or how to get the best chicken waterer. That's why we have compiled a list of the best of them to make that easier for you.
Do read on.
Our Top Pick
Farm Innovators Heated Plastic Poultry Fountain, 3 Gallon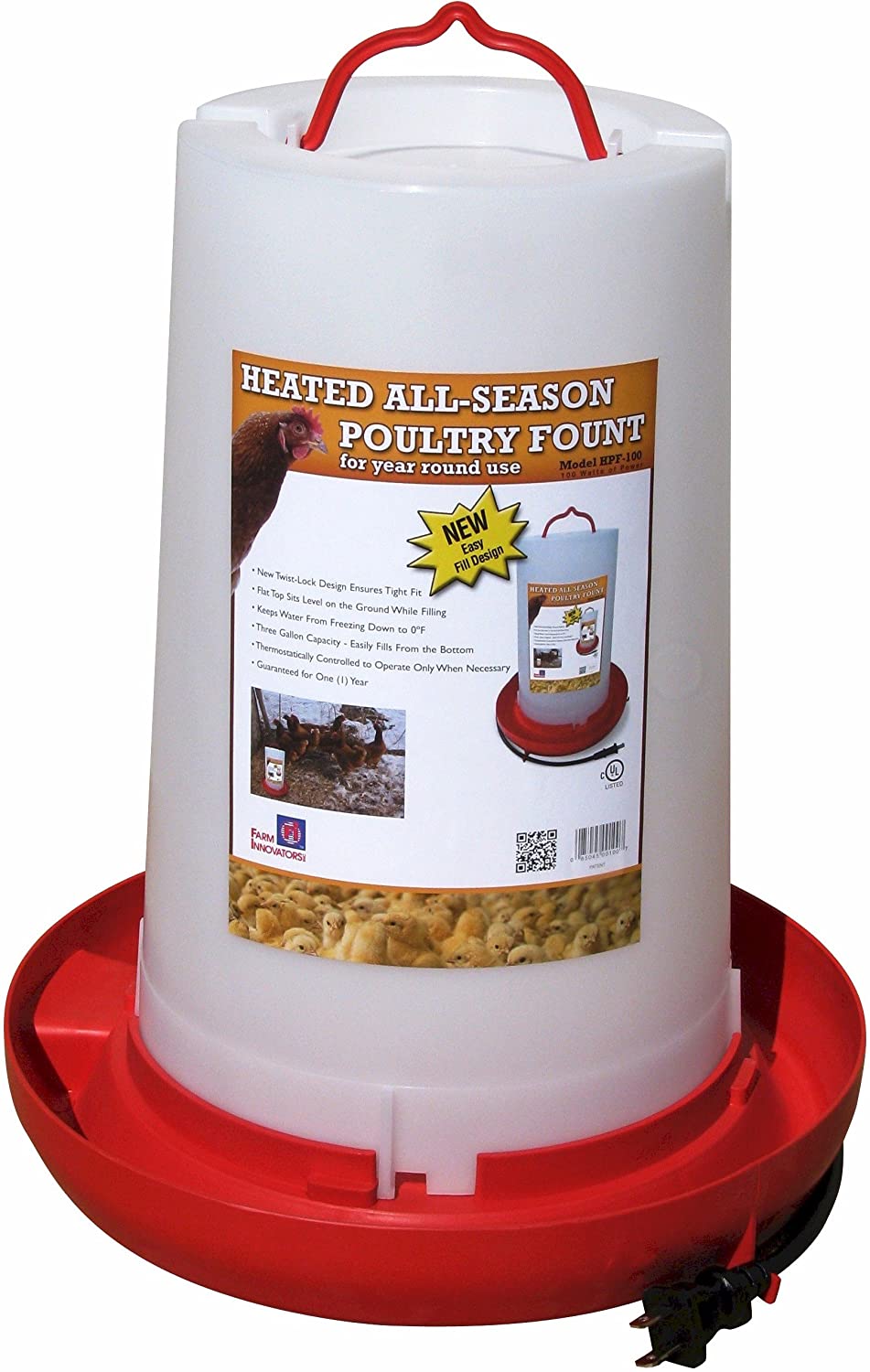 When you think of a chicken waterer, you think of it like any other content that needs to hold water and let a little out every few minutes. Well, this waterer only releases water when it's needed and in liquid form.
It has a thermostatic control that ensures it only works when you need it to. That's why we think it's the best pick of the bunch.
The Best 4 Chicken Waterers for Winter
---
How to Choose the Best Chicken Waterer for Winter
Like with buying any other product, you need to consider when shopping for a chicken waterer to use in winter. That's not like shopping for the other waterers that only work when it doesn't winter.
Although there is a range of the things you'd need to consider, the below are the most pressing.
The Size: How large is the Reservoir?
The reservoir should matter a lot because you don't want to spend money on many waterers or refilling the water each time. The larger, the better, although you're most likely to get most waterers to be between 3 gallons and 4 gallons.
Always go for the largest reservoir size. It will save you some money and some time.
The Ease of Use: Is it Easy to Use
Some waterers are hard to use. By hard to use, we mean the normal processes like refilling or cleaning them are harder than they should be. This might be difficult to judge when you are looking for a waterer for winter.
However, there are some telltale signs you can never miss. First, the container should have a handle that makes it easy to carry and hang. That would call for a heavy-duty handle that can withstand all the rigors of a chicken coop.
Second, it should have leg stands that make it easier for you to refill. If you can get one that enables you to refill it from the top, the better.
How many Watts Will You Need to Run It?
Winter chicken waterers usually rely on electricity to work. That means you need to know their explicit power needs to understand better how much it will cost to use them. It, therefore, helps that most of them will list the wattage.
All you need to do is note it before buying the waterer. If you are a conservative user, then you should go for a lower wattage water heater.
Construction
The construction matters a lot because you need something that will last you some time. That means the material should be resistant to causal damage. Although most of these waters are plastic, you will want one that won't suddenly break.
That's something else to consider before choosing a chicken waterer for winter.
The Cost
This is up there with the most obvious things to look out for. You will need to consider it because some might be expensive but still lacking in quality. However, chicken waterers aren't that expensive, and they shouldn't, therefore, worry you that much.
You also need to pay attention to the overly cheap heaters. You don't want to buy something cheap only for you to rue your decision later on.
Popular Chicken Waterers
There are several brands in the market, that have been bringing a revolution in chicken waterers over the years. Some of these brands are:
4 Best Chicken Waterers for Winter
The ideal chicken waterer to use in the winter is the one that is budget-friendly and also can withstand the harsh climate of winter. Failing waterers can result in chickens surviving without any water. Let's take a look at our top pick list: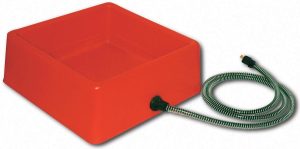 With the winter upon us, one of the best ways you can use to ensure you water your chicken with ease is getting this winter chicken waterer. This heated water bowl ensures the water doesn't freeze by heating it regularly and whenever needed to keep it warm enough.
Although there are many ways you can use it, the primary use is in the chicken coops and pet feeders. What makes this water bowl so efficient is the thermostatic control that ensures it only kicks in when you need it to. The inbuilt 60-watt heater ensures the water is hot enough to prevent freezing. That makes it easier for your flock to water themselves.
Another thing you will love about it is the square design made with a heavy-duty style that discourages chickens from chewing it. Besides that, it comes with an anti-chewing cord to further deter any chewing. That means it will last you a while before you have to get a replacement.
Although this water bowl will come in handy in the winter, that doesn't mean you can use it at any other time of the year. It is an all-season water bowl you can typically use when you don't have to worry about freezing water.
Finally, an automatic working water bowl is not only ideal for chicken. You can also use it to provide water to your dogs or any other tiny farm animals. The one and a quarter gallon of water won't need you to be refilling it every time.
If you are looking for a way to water your brood in the winter, then this should figure out your plans.
---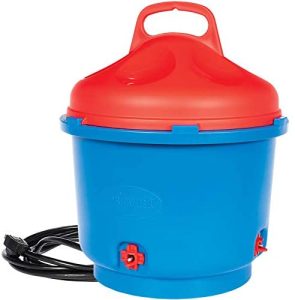 Another option you can consider for watering your flock during winter is this three-gallon water heater. This one will impress you with its large size, which means you won't struggle to refill it at small intervals. The three gallons will hold the water for a long time before needing a refill.
What enables this waterer to keep the water inside warm is the secure interlocking lid. The lid is airtight and prevents chickens from dirtying the water while drinking. The conical shape prevents the birds from perching on the waterer.
One other thing you will love is that it is an insulated chicken waterer. That's not only because of the lid but also because of the container's construction.
This waterer also has a heavy-duty handle that you can easily carry and use to hang the waterer. With the drip catch nipples, it can release water slowly and prevent wastage. It also has a detachable electrical cord that makes it ideal for use in seasons other than winter.
Another thing that makes this among the best winter chicken waterers is that you don't have to turn off the heating yourself. That's thanks to the inbuilt thermostat that raises and lowers temperatures as required.
---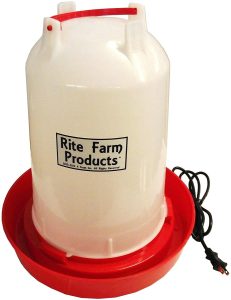 This is the largest waterer on our list so far if the 3.7 gallons are anything to go by. That means there are long intervals between you refilling the container. That's not the only thing that matters with this waterer, though.
It boasts LED light indicators that make it easy for the chicken to identify the watering place. Besides that, it works with a fountain system that keeps the water warm even in the coldest of temperatures.
Since this waterer works with electric power, you will need to connect it to the power supply. For that, it has a 6-foot long cord, which means you will have an easy time doing that. You won't have to use extensions or get the supply closer.
The waterer is also quite easy to use. That's because it has carry handles that make it possible to carry water from the source to the chickens. Besides that, it also has stand legs that make it easier to refill.
It has thermostatic control that turns on each time the water temperatures drop below a certain level. That ensures the water doesn't freeze even with the coldest winter temperatures. Your brood will therefore enjoy the water throughout winter.
---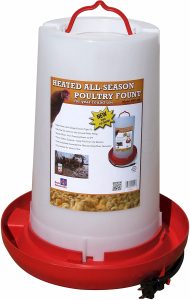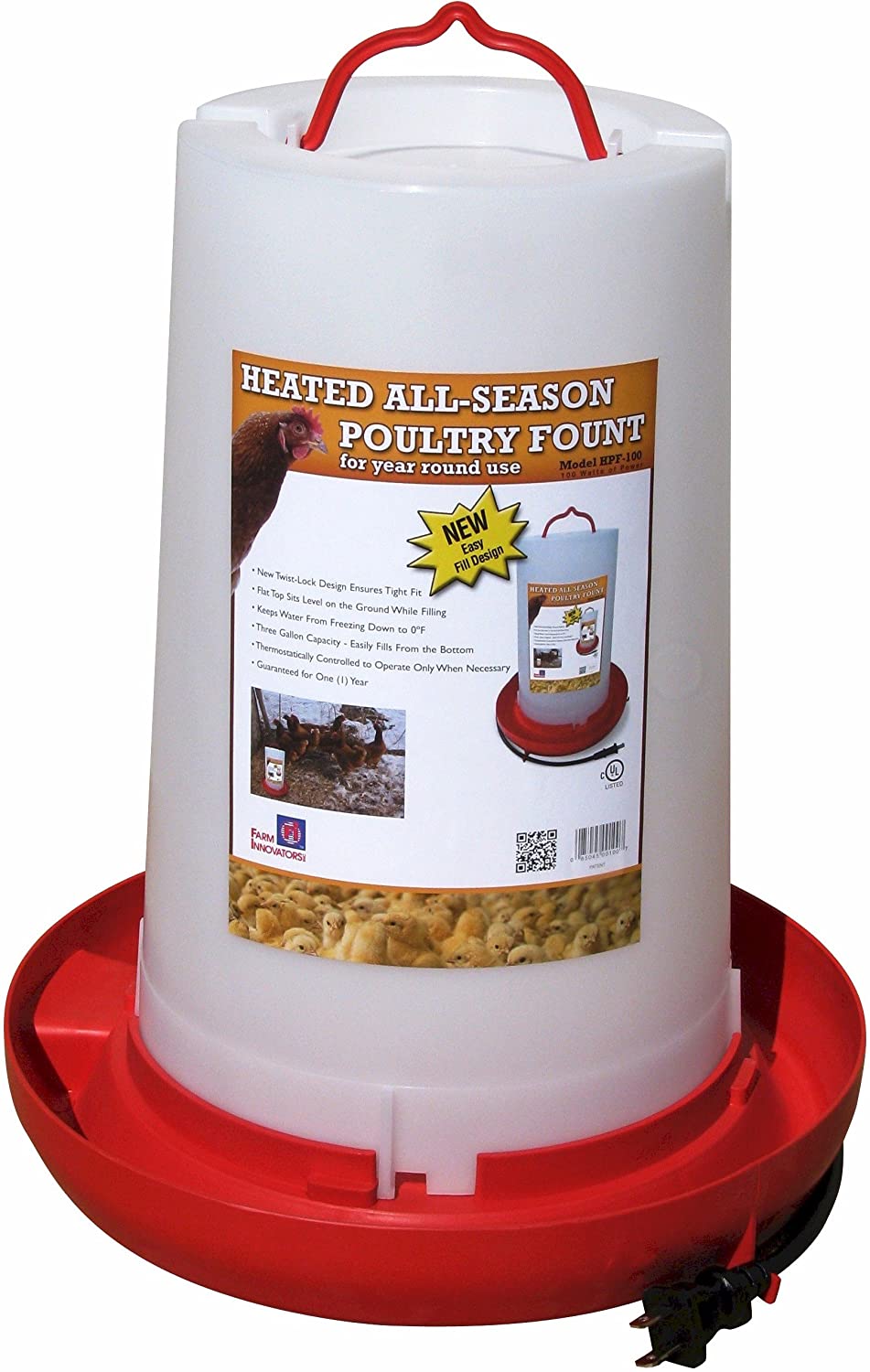 Closing our list is this all-seasons poultry waterer. You don't need to restrict it to watering your chickens in the winter alone since you can use it throughout the year. That's why it is dubbed the all-season poultry waterer.
It is a versatile waterer that you can use all over the farm to water small animals. You, therefore, don't have to use it chicken alone. Its best use, however, is for chicken. What enables it to keep water from freezing is the thermostatic control.
The thermostat ensures the heater only works when it needs to. And that's when the water temperature reduces. It has a handle that will facilitate transfer from the water source to the chicken coop. The handle will also come in handy when you need to hang it.
It also has a rather commendable water capacity of 3 gallons. That means the time between refilling won't be that tedious. Of course, that will depend on the number of chickens you have. The more the chicken, the more the refills.
Although it is plastic in construction, it will last you the better part of years. It, however, will depend on how you use it. The only issue with this waterer is that it's hard to refill. You have to open it up before you can refill it.
Some other options would have allowed you to refill from the top without opening the container.
---
Our Top Pick
The Farm Innovators Heated Plastic Poultry Fountain is a three-gallon watering container that will guarantee your chicken's water even when the winter temperatures drop below freezing. The large reservoir means it will be up to the task, and you will have to be refilling it less.
That's why we recommend it. Farm Innovators products have quite the reputation, which is why we have two of them on our list of the best winter chicken waterer. It is also an insulated chicken waterer that ensures all the heat stays within the container and doesn't escape.
You wouldn't miss a beat trying it.
Final Thoughts
The best chicken waterer for winter will ensure your flock still gets water even everything else has frozen. That's why getting any of these will make it easier for you. Remember the guidelines we have outlined here to choose among the best.