Believe it or not, finding the ideal watering system for your flock is one of the toughest chores.
Yet, it gets less complicated when you have the best chicken water nipple bucket in hand. It not only keeps your feathered friends hydrated but also streamlines their overall digestion.
Now, you might wonder how these chicken waterers are any better than other chicken feeders.
Let us tell you this when you have a chicken water nipple bucket; you get constant fresh water without having to undergo perpetual cleaning or refilling.
Long story short, it saves up a lot of time and labor while ensuring your flock's healthy growth.
And to help you find out the ideal chicken water nipple system, we have curated a list of 6 chicken waterers. Check them out!
Quick View: 6 Best Chicken Water Nipple Bucket
Best Chicken Water Nipple Bucket Reviewed
During our research on these chicken waterers, we made sure to verify each of their features depending on the customer feedback from various platforms.
What we deciphered is that none of them are flawless but what pleased us is their distinct specialties in various feeding aspects.
And at the end of this segment, you will find an in-depth buying guide that will help to deduce the ideal deal for you.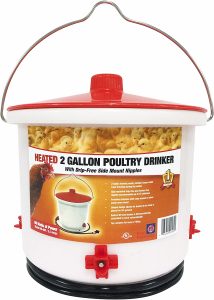 At the top of our list, we have farm innovators thermostatically controlled poultry drinker that comes with 2+ gallon water-retaining capacity.
The reason why it's immensely popular in the realm of poultry is its non-freezing water supply formula. It ensures a constant flow of water without freezing.
In fact, even during sub-zero temperatures, these water nipple buckets prevent water from freezing for years.
Besides, it delivers 100 watts of power to prevent water from exceeding 0-degree Fahrenheit. However, you have to ensure that the temperature reach is not higher than 15 degrees.
Then comes the side-mounted nipples, which are strategically crafted for your flocks to experience drip-free water consumption.
These buckets are capable of holding 2.25 gallons of water, and the three nipples can effortlessly accommodate up to 15 chickens.
Where most of the nipple style drinkers arrive with the nipples mounted on the bottom, these waterers allow you to hang it in the coop or store it on a strong and flat surface.
Here, your chickens have easy access to the nipples, which effectively quenches their thirst. Thanks to the sturdy metal-made handle that facilitates hanging it in the coop without falling apart.
The high-quality plastic construction withstands damage derived from the persistent peckers in your flocks. However, make sure to hang the bucket at a proper height so that your smaller chickens can also reach the nipples.
Also, this chicken waterer is equipped with a retractable lid that ensures easy water-refilling. Here's an interesting fact; these waters act as a reservoir system, and by this, we mean you could fill the bottom without detaching the lid.
You can observe how much water is being consumed since the bucket has a translucent profile.
It basically informs you when to refill the bucket. This process may feel a little intricate, speaking of refilling when connected with the electrical cord. Thus, try to read the whole instruction guide before getting started.
This chicken waterer is the best all-around in terms of almost everything.
Be it supplying clean water to your flocks or preventing water from freezing. It's compatible with all seasons so that even during winter, your flocks don't encounter any trouble drinking water.
Furthermore, it keeps your chicks hydrated and ensures their well-being. Also, the overall cost is pretty decent, and since it's made of durable materials, you don't have to invest money in it over and over.
And about the tricky refilling and overflowing issue, we suppose that it will get under control with time.
---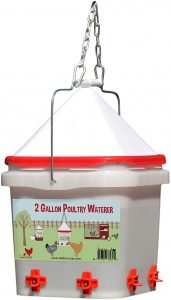 Its been a decade of commercial poultry owners using chicken water nipple buckets. And they have a valid reason for this. and it's because they are automated and don't require extreme labor and time. Luckily for all the novice chicken owners.
RentAcoop offers a horizontal side chicken nipple waterer that exhibits similar attributes as commercial ones.
They are relatively cheaper in price and easy to use. The chicken waterer is engineered from 100% food-grade and BPA-free plastic material.
No wonder it's built to last, and regardless of the relentless pecking from your flocks, it remains damage-free. It offers 2 gallons of water-bearing capacity, and the four nipples are mounted horizontally so that the bedding remains dry.
You can keep the bucket on the ground while refilling.
It doesn't get dirty and warrants a mess-free water-filling and supply as well. This chicken waterer can accommodate up to four chickens. You might be worried about the thirsty and unruly hens who constantly peck at the nipple.
But trust us when we say this, the moment when the hens peck at the nipple, they will instantly receive clean water. Hence it's safe to say that there's no possibility of causing a mess and getting dirty.
Besides, you can place the nipple drinkers inside the coop. It's completely safe, and as they are less susceptible to mess, you don't need to invest much energy in clean-up.
Now, one crucial factor that you need to acknowledge is that this nipple watering system is best suited for baby chicks than adults because baby chickens have the default tendency of pecking.
And if they get accustomed to the nipples, you will face no issues when they grow up. Otherwise, it might take a little time for your chickens to adapt to the nipple waterers.
Furthermore, it comes with a removable cap on the lid so that the filling becomes effortless.
If you are on the lookout for a chicken waterer that's utterly easy to use, then this is the one for you.
You can say that is its forte, and the reason why it stands out from the crowd is its user-friendliness. The beauty confides in its simplicity and subtleness while ensuring other crucial aspects: supplying clean water and storage convenience.
However, this chicken waterer isn't a good choice for extremely hot environments due to its poor heat resistance. So, we recommend you keep this in mind if you are hoping to give it a go.
---
One of the biggest problems of any chicken waterer is its tendency to attract algae due to excessive heat.
But what if we tell you that the little giant hen hydrator ensures preventing algae growth by its UV resistant feature and keeps the water clean for days? That would be amazing, right?
Well, then "it's true." this hen hydrator comes with a light blue color and in a transparent design that allows you to record the water level.
Hence you can easily determine how much water is left and when to refill. Now sometimes, the lid of your chicken waterer falls apart or gets displaced.
It might happen because some of your hens are really aggressive, and their constant pecking shoves the lid to fall. Here this nipple waterer offers a sturdy lid construction with a stable fitting.
It's too stiff to cause any spill or contamination. Speaking of this, you might wonder what if you can't remove the lid during filling due to its rigidity.
Let us tell you that the plastic chicken waterer offers an easy-to-remove fill plug by which you don't have to remove the entire lid.
You can restore water easily without having to bear any complexity.
This water nipple bucket comes with an adjustable height that may differ by breeds. Albeit, you need to ensure maintaining an appropriate height for the adult chickens to get an easy reach.
It can accommodate up to four adult hens with its 3.5 gallons water holding capacity and four nipples. Remember that it's not suitable for baby chickens.
Little Giant has been catering to the poultry industry for over 70 years, being the market leader.
For larger coops and hot weather conditions, this is the ideal deal for you. However, make sure to declutter every water system except the nipple bucket and tap each nipple so that the chickens can see where the water is coming from.
It might take time to accustom to the watering method, but eventually, they adapt to it. See, as long as you don't want a nipple waterer for cold temperature and your small babies, we believe it will do just fine.
---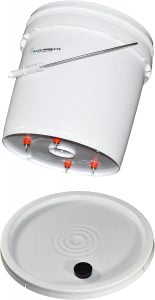 The fourth product we have is from the BAFX products. They have a history of distributing high-quality chicken waterers, and it's pretty evident that their customers are wholeheartedly satisfied with their service.
This water nipple bucket can hold up to 2 gallons of water and is equipped with four nipples. So it's safe to say that this can accommodate up to 4 hens. Besides, setting it up is super easy and less time-consuming.
You just need to fill the bucket with water and hang it from the side of your coop. Now, in most cases, chickens face difficulties adapting to the nipple waterers.
Mostly the adult flocks take a lot of time to get used to such things. But here, the scene is a lot different.
You will see your chickens getting the hang of it within 30 to 60 minutes. At least, from our research, we have seen the majority of customers are pleased with how fast their flocks gave in to the system.
Furthermore, this chicken waterer prevents air pollutants or any other debris from getting into the system and ruining the water quality.
Thanks to the thoughtful design, which ensures keeping the water clean and free of contaminants.
Also, the fact that it has a lid, you can rest assured that as long as the lid is sealed, your hens are getting dirt-free water. Here the lid has a hole with a removable rubber stopper for easy refilling sessions.
In addition, the small holes improve the water flowing quality by inhibiting the vacuum effect. Thus, your chicks get to quench their thirst with ampleness.
It's one of the most budget-friendly chicken waterers you will ever come across that doesn't compromise quality.
The majority of the chickens adapt to the nipple waterer faster than any other watering system.
Also, for smaller coops, it works wonders.
All you need to do is to place it inside the coop, and in no time, you will see your flock pecking on the nipples. It ensures consistent water flow so that your chickens get plenty of water at one peck. However, the nipple's overall built quality isn't the best.
If anything, it's pretty average. So that can be a downer for you unless you have no issues with nipple replacement.
---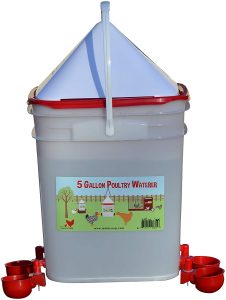 If you already have used the previous chicken nipple water cups from RentAcoop, then rejoice! This is the new and better version of those old orange cups. A lot of people complained about their durability and handiness; hence the update happened.
You don't need to worry about the cups getting damage as they offer an additional one which you can easily put together when need be.
This chicken waterer offers simple filling from the top so that you don't have to remove the waterer from your coop or flip it back over.
Without any need for tabs or floating valves, these nipple buckets work just fine as they fill automatically. On top of that, the nipple water cups are ideal for hot days when your flocks are frequently thirsty.
It has up to 80-degree heat resistance which means the water inside remains cool regardless of the temperature outside.
The chicken waterer can hold up 5-gallon water, and the four automated chicken nipple water cups can accommodate up to 4 hens at once. Besides, the cups are large enough to ensure that your chicks can dip their wattles in them.
Furthermore, it comes with a no-roost lid that resists chickens from roosting or pooping on the waterer.
You can place them in the center of a chicken coop although, it is advised to keep them on a cinder block or scrap wood. It will slightly elevate the waterer's surface from the ground to ensure proper height.
Also, refrain from hanging it as the 40lbs weight (with the water-filled) can create extreme tension on the straps. Now, if you must hang them, then consider buying the hanging strap from RentAcoop.
Since it's easy to remove, you can clean them from time to time. This chicken bucket dedicatedly supplies clean water for years with an effortless setup facility.
We vouch for its various attributes and mostly for its resistance to the hot temperature, which most of the nipple waterer lacks. It may cost you a little more than the previous version, but it pays off ideally.
Besides, the see-through design will always tell you about the water level for refilling from time to time.
In sum, it's an ideal choice for hot summer days and your little and adult chickens. The cups might not be the best quality or can leak due to persistent use, but it's easy to replace, and the extra cup is there to help you.
---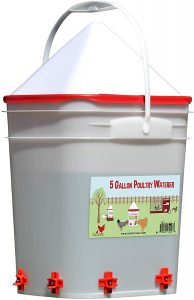 Here we have another chicken waterer from RentAcoop that caters to specific watering purposes.
First thing first, if you own a coop with more than 30 chickens and you are tired of cleaning up the mess they create while feeding, then this is the one for you!
It keeps your coop dry and mess-free for days. This chicken waterer is capable of holding 5-gallon water that distributes water to four hens and lasts more than a week.
Here the nipples are mounted horizontally on the side for easier access. Your hens can easily reach up to the nipples and quench their thirst.
On top of that, this water nipple bucket is crafted with food-grade plastic, which is non-toxic and BPA-free. The water inside remains dirt and pollutants-free.
Also, the nipples are free of contaminants as the horizontally placed nipples protect the ground from getting wet. Once you assemble the nipples properly, the chickens get a constant flow of clean water.
Besides, the flocks seem to get familiar with the nipple watering system in no time. Hence, you don't need to stress over this fact anymore. for your small chicken farms and adult flocks, this can be a suitable choice.
As we mentioned before, it works best in small coops and ensures keeping the coop dry and mess-free.
It is certainly not the best of all, but in terms of better water accessibility, supplying clean and safe water, and faster adaptability, it works just right. Just something different and better from the regular design.
---
What to Look for Before Buying?
While shopping for chicken water nipple buckets, few things should be taken into consideration. It will help you to ensure the ideal unit for your flocks.
We have discussed some of the crucial factors that you should look into before making a purchase.
• Water Holding Capacity
The first and most important thing is to check how much water it can harbor inside. You surely don't want a bucket that can't sustain enough water for your flocks.
Also, refilling them every hour is exhausting. That is why you need to determine the size of your coop first, then the number of chickens you have, and finally, how big your feathered babies are.
You have to focus on these aspects and ensure the right size with sufficient water holding capacity because you don't want a large unit for your baby hens and vice versa.
As it's necessary to provide enough water for your flock, you need to consider the size of the waterer, how much water it can hold, and how much space it takes.
• Construction and Design
The overall construction mainly depends on the material. Thus you need to inspect the material of your waterer.
It can be made of plastic, glass, or metal. Well, glass-made waterers are usually used for baby chickens, but once they mature up, you better use plastic or metal ones.
As for the design, opt for the ones which are easy to assemble and comes with a removable lid.
However, keep one thing in mind that if you are going for plastic waterers, then you must avoid the cheap ones with a poor quality because they are susceptible to damage, mostly during cold temperatures.
On the contrary, metal ones are pricier than plastic waterers but surely last longer.
• Durability
The durability of your chicken water nipple bucket also depends on the material. Hence it's paramount to ensure the overall build quality. It has to be sturdy enough to withstand cracks and damage.
Also, the relentless pecks from the flocks should not affect the waterer if it's robust enough.
• Weather Compatibility
Lastly, you need to think of the weather condition. If it's too cold, then the chances are high that the water will freeze inside the bucket.
Also, some waterers can't withstand hot temperatures, and as a consequence, it either snaps, or the water inside gets excessively hot. So, keeping this thing in mind, you can do one thing that can work for cold weather.
Get yourself a waterer that comes with an all-in-one heated unit. It will develop the temperature and prevent the water from freezing. And for hot days, ensure getting one of those which are resistant to a certain heat level.
Frequently Asked Questions
1. Where should I put my chicken waterer?
You should focus on the area where your chickens wander around the most. It can be a run, coop, or backyard.
If your chickens have the habit of roaming around the large pasture or garden, then ensure putting the chicken waterer at each end so that they get easier access.
2. What is the ideal height for chicken waterer placement?
The standard height is 6 inches above the ground. It may vary from one breed to another. Ensure keeping the nipple and the cup units just above the beak height.
Also, the baby chickens cant reach up to 6 inches in height level. For this, you need to lower them a little so that they can drink water without any trouble.
3. What is the best material for a chicken water nipple bucket?
Metal, plastic, and glass waterers all work effectively, but you need to ensure the quality and its robustness.
However, if we are to name one, then it's undoubtedly metal-made chicken water nipple buckets as they reign over anything in terms of permanency.
4. How much water should a chicken drink?
Well, typically, the adult chickens drink around a pint as in 0.473 liters of water each day, whereas larger hens may drink more than that.
5. Are there any symptoms of dehydration for chicken?
Yes, there are. For instance, pale wattles, diarrhea, seizures, labored breathing, flapping wings vigorously, lethargy, etc.
Final Words
So that was all about the finest chicken waterers for your feathered friends. We hope the review was precise enough to help you find the best chicken water nipple bucket. Ensure to stick to your priorities, and don't forget to check the buying guide before shopping.