Raising chickens is a highly rewarding task, in more ways than one. It can, however, also be frustrating… especially if you don't have the right feeder.
Movie scenes and paintings make it seem normal to just scatter your chicken's feed directly on the ground. In reality, chickens are messy eaters, scratching at and scattering their feed all over. This not only wastes feed but makes it easy for rats and cockroaches to find their way into your yard.
If that sounds like you, today we're here to help you find the best chicken feeder to prevent waste and rats by reviewing the top 6 picks. We've also included a buying guide to help you navigate the varying prices, designs, and capabilities!
Quick View: 6 Best Chicken Feeder to Prevent Waste and Rats
Benefits of Chicken Feeder
Wondering whether you really need a separate feeder for your chickens? Here are the main reasons why you may benefit from buying a feeder.
• Cleanliness
If you're dealing with a messy situation every time you go to feed your chickens, you need a chicken feeder. Most feeders are specifically designed to keep the elements out of the feed, and more importantly, keep the food dry, clean, and germ-free.
Plus, by their very design, they prevent chickens from defecating in their own food.
• Safety
One of the most common problems associated with chicken feed is that it attracts other hungry animals, mainly rats, and raccoons. Even if this doesn't happen enough to increase your feed bills significantly, these animals might enter the coop in search of food and disturb your chickens.
• Waste Reduction
Feeding chickens by hand wastes a lot more food than most realize. Chicken feeders, on the other hand, prevent spillage and allow you to determine precisely how much feed you want to dispense. Plus, they're a great way to keep your chickens from fighting over food (if they have that tendency).
Best Chicken Feeder to Prevent Waste and Rats Reviewed
You've been struggling with high feed bills and unwanted guests in your chicken coop. Let us help you find the feeder that will solve your problems!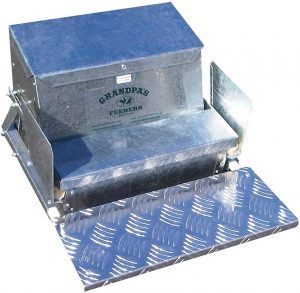 Our first pick for you today is a highly rated treadle feeder that has maintained its popularity for many years. Constructed from galvanized steel, this feeder is ideal for free-range chickens or outdoor feeding spots. Its design and construction make it the perfect choice if you're looking to keep vermins out of your chicken feed.
As you may already know, a treadle feeder functions with a stepping mechanism; once your chicken stands on the base, the lid opens for it to feed. This system effectively keeps out unwanted extra feeders while allowing multiple chickens to eat simultaneously. And of course, it keeps feed fresh for longer.
This is also made possible thanks to the feeder's large capacity of 20 lbs. of feed. According to Grandpa's Feeders, this is a sufficient amount to feed up to 6 chickens for at least 10 days. Wastage is also kept to a minimum with the help of the anti-flick grill. Food fights are also prevented, thanks to the safety side guards.
Putting the feeder together is super easy; only the tread plate (where the chickens must stand to access the feed) must be assembled by you, and the required bolts come packed with the feeder.
Although you will have to train your chickens on how to access the food (which might take up to 2 weeks), it's worth it for your long-term convenience and feeds wastage reduction.
The popularity of this treadle feeder from Grandpa's is unmistakable and understandable. Not only does it keep wastage to a minimum and allow your chickens to feed whenever they want, it also keeps pests away.
That said, there is no guarantee that your chickens will take to the feeder, even if you succeed in training them.
---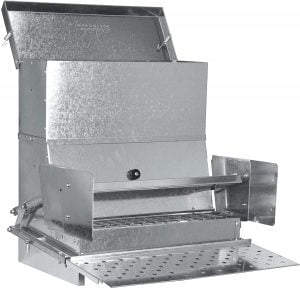 If you have a large flock and are interested in buying a treadle feeder for your chickens, then you'll love this feeder from RentACoop. This one has a generous capacity of 40 pounds which not only keeps your chickens adequately fed but ensures that you won't have to worry about sticking to a schedule.
As with all treadle feeders, keeping pests away from your chicken feed is made super easy with this thing.
It's only activated when one of your chickens stands on it, which causes the lid to open and gives it access to food. The tread base only responds to the weight of chickens, so rats, raccoons, and squirrels will not be able to work it.
Our favorite thing about this treadle feeder is the ability to adjust its weight sensitivity. You can adjust it to respond to either 1.5 pounds of pressure, which is suitable for bantams, or 3 pounds, for fully grown hens.
If you have a mixed flock, buying multiple feeders of this type makes sense. Don't worry about spillage, because this thing comes with a grill and side guards.
If you can get your chickens to get the hang of activating a treadle feeder, the benefits are undeniable. That being said, as a relatively cheaper feeder, there are some durability and construction concerns with this thing. We do love its weight adjustment capability, which is unseen in other similar models.
---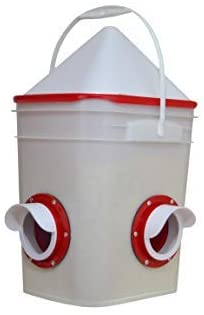 Not interested in purchasing a treadle chicken feeder? Looking for a feeder that will be easy to hang? Then this offering from RentACoop might just be what you need.
Constructed from sturdy and tough food-grade BPA-free plastic, this feeder is built for long-term usage. It does not have a roost cap, so it can be placed almost anywhere on the ground. Also, it can be hanged.
It comes fully assembled right out of the box, and it's very easy to use. All you have to do is flip the top and fill it up with feed! It easily holds 20 pounds of feed, and it comes with two separate feeding outlets.
What makes this feeder so efficient, however, is that each outlet only allows one chicken to feed at a time. This not only prevents spillage but prevents your chickens from getting into fights. And most importantly, of course, this dissuades rats and birds. Even if they were to try, they would not be able to access the feed.
When it comes to getting a durable and resistant plastic rat proof chicken feeder for pellets, this is a great place to start. It's largely effective, and it keeps your chickens well-fed while reducing waste and keeping out pests.
If you have a large flock, though, the single feeding port might be counterproductive. Moreover, dominant chickens might prevent the weaker ones in the flock from eating.
---

You like the idea of PVC pipe feeders but can't be bothered to DIY one. If that sounds like you, you'll like this feeder from Royal Rooster. It's easy to install, easily accessible by your chickens, and is suitable for small to medium flocks.
The tube design of this feeder, although simple, is highly efficient in making sure your chickens get fed properly. Designed with feeding segments, this feeder eliminates wastage by discouraging chickens from picking through the feed.
What's more, the feeder comes with a quick-open rain cover that ensures the feed stays dry, clean, and uncontaminated.
Installing this feeder is a walk in the park; it takes only moments to hook onto the coop mesh. Or, if your chicken coop has solid walls, you can install using the included aluminum brackets. And because it's lifted off the ground, it's much more difficult for rodents to access.
Most birds will also have a difficult time getting to your chicken's feed.
However, this feeder is undeniably expensive and can easily be replicated by you with a little time and effort. That said, the quality and durability of this pipe feeder are unmistakable. If you have a small flock, this will bring you long-term savings by reducing wastage and keeping pests out.
The ease and convenience of a pipe design chicken feeder are undeniable, and Royal Rooster has certainly paid attention to the most important details. Although this feeder is expensive, it will certainly save you time, money, and effort.
However, it's not suitable for large flocks or moist feed types. If you're searching for the best rat proof chicken feeder, though, this is a good choice.
---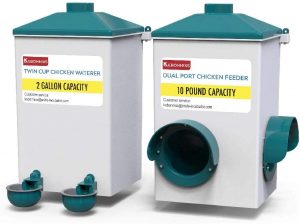 If you're looking for a feeder that requires little or no supervision, then this model from KEBONNIXS should catch your attention. Unlike most others, this feeder comes in a pair with an automatic cup waterer. This keeps all your chickens well fed and fends off any rodents that might be around.
What truly grabs our attention is the well-housed port feeder and cup waterer. The design of the housing is such that once the chicken starts feeding or drinking water, it will begin to replenish itself bit by bit. The chickens can easily access the feed through the 2 ports created on either side of the feeder.
In addition, the 2-port design actually helps in reducing wastage. This is because the chickens will need to stick their neck out to eat, and so there is less chance of spilling. While the port does restrict movement, the reduction in spilling or spoiling the feed is worth it.
Moreover, KEBONNIXS steel build makes this feeder ideal for outdoor usage. It features a rain hood on top, which protects the feed. The ports have a shade-like design as well to prevent rainwater from accessing the feed inside.
The innovative automated design of this thing makes it the best rodent-proof chicken feeder. The 2 ports on each side prevent rodents from wasting and stealing your precious feed. Ideal for large spaces, the feeder set is able to cater to a large population of chickens.
---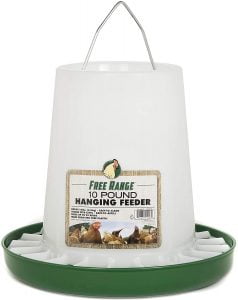 Concluding our list, we have this fast serving outdoor free-range feeder from Harris Farms. Not only does it have a hanging mechanism for convenience, but it also has a large capacity. It also comes with a feed ring that will easily feed up to 25 birds.
The design aspect of this feeder is quite simple yet very useful. Harris Farms have placed a steel handle on top that allows you to hang the feeder to get the perfect height. This is comfortable for most free-range chickens as it gives them adequate room to eat.
Since you will be placing the feeder outdoors, it needs to be constructed from high-quality plastic. Harris Farms uses a special plastic mixture that enhances the durability of the feeder. This keeps the feeder's body shape intact and increases its resistance to the elements and everyday wear and tear.
As we mentioned, the feeder features a quick serving design which gives you fast refilling options. Once your chicken feed starts running low, you can easily use the open-top to pour out some more. The open-top design also makes it quite easy to clean.
This is a quick and easy solution to anyone breeding anywhere from 10 to 25 free-range chickens. Harris Farms have done an exceptional job with the design as the open-top significantly reduces the refill time.
With a combination of the right features and build quality, this is perfect for long-term outdoor use. However, if you live in a rainy climate, you might want to rethink buying this feeder.
---
What to Look for Before Buying
Choosing a chicken feeder is a dizzying task. There are so many different types befitting different flock sizes, feeder placement, and of course, your personal preferences. So here's a look at your options.
Feeder Type
The right type of feeder depends on many things: placement, flock size, how frequently you want to refill feed, etc. Let's have a closer look at each type.
• Trough
If you have a large chicken flock, you'll appreciate the benefits of a trough-style feeder.
Able to be attached to the coop's wall or left standing on its own, trough feeders allow many birds to feed at once, in a single row. They have high sides and slim builds, which makes it harder for the birds to scratch the feed out. However, trough-style feeders should not be overfilled.
• Bell
Available in varying sizes up to 20 kgs, bell-shaped feeders are some of the most commonly found. They have high sides, are usually segmented to prevent waste, and can easily be hung. They're also the most economical choice.
• Treadle
Treadle feeders are the best choice for free-range hens and are ideal for keeping out rats. A treadle feeder has a pressure plate upon which the chicken must stand to access the feed. Once the chicken steps off, the lid shuts on its own. Plus, they're basically waterproof, so you can leave them outside worry-free.
However, you shouldn't get one of these if you're not willing to make an effort to train your chickens.
• PVC
PVC tube feeders have a high capacity and easily minimize wastage. They're easy to refill. However, only one chicken at a time can feed from a PVC feeder, so if you have a large flock, it's an unsustainable choice.
Furthermore, if you feed your chickens mash or wet feed, it will clog the pipes—it's only recommended for pellets.
Construction Material
There are mainly two materials used in the construction of chicken feeders: metal and plastic. Plastic is non-toxic, easy to clean, available in different colors and styles, and typically odor-free. The plastic feeders are also easier to hang due to being lightweight.
On the other hand, feeders made from galvanized steel are a better choice if you like to feed your chickens out in the open. Galvanized steel is very durable and easily resists rust.
Flock Size and Age
The size of your flock determines the type and size of feeder best suited to your needs. If you have only a couple of chickens, you probably only refill the feeder once every day or every two days.
Conversely, if you require a feeder that can hold enough chicken feed for more than a day (particularly if you don't like having to refresh the feed daily), you should get a feeder with a larger number of outlets.
Next, you must consider the age of the chickens in your flock. If you have chicks, you can obviously get away with buying a smaller feeder, and the reverse is true for bigger chickens.
However, if you have a mixed flock, you should look into feeders with varying outlet sizes. Remember, for adult chickens, at least 6cm of feeder space is usually required.
Feed Type
Do you like to feed your flock commercial poultry feed, which usually comes in a pelletized or grain form? Or do you prefer to give them a dry/wet mash? As you can imagine, every feeder is suitable for a different type of feed.
For example, as we mentioned above, a PVC pipe feeder is unsuitable for moist mash since it will clog the interiors. Or consider the bell dispenser, which is suited to dry mash but not moist. So make sure that the feeder you've chosen is suitable for the type of feed you give your chickens.
Frequently Asked Questions
1. Why do I need a feeder? Can't I just toss feed on the ground?
Sure, if you love wasting feed and having a dirty yard! Feed might not be expensive, but if your chickens are wasting it, you'll find yourself with mounting bills. Moreover, wasted feed easily attracts rats and insects. A waste-free feeder can prevent these problems.
2. What's the best place to put my chicken feeder?
Right inside the chicken coop door is the best place for it. Not only does this keep it protected, but it also encourages your chickens to sleep and lay eggs inside their coop.
3. Is it necessary to hang your chicken feeder?
It's not absolutely necessary, but it can be helpful as it might prevent your chickens from upsetting their feeder or accidentally defecating in them.
4. What is the recommended amount of feed for chickens?
It's best to let your chickens eat as much as they want; they usually won't eat more than required. Remember, undernourishment can cause chickens to be stressed out and unable to lay eggs.
5. How frequently should I clean my chicken feeder?
Try to clean it at least weekly using warm water and mild detergent. If you're particularly concerned about keeping your feeder clean, then we recommend steering clear of PVC feeders.
Final Words
Grandpa's Feeders treadle feeder undoubtedly has the best design to keep pests away from your chicken's feed. It requires heavy training, however, so if you want to avoid that, you can consider this semi-automated model from KEBONNIXS. For free-range chickens, Harris Farms has the perfect solution.
Ultimately, only you can decide on the best chicken feeder to prevent waste and rats. It's your flock, after all, and keeping them fed is the top priority. Good luck!