Here is the thing with most chicken coop cleaners: they either only give you temporary relief or make it a nightmare to use. Trust us, we've been there, and we know how it goes.
We've made the mistakes, learned the lessons, and now we're here to help you. So yes, if you're looking for a cleaner and deodorizer that will give you long-lasting relief, you're in the right place.
We rounded up the best chicken coop cleaner & deodorizer available in the market. All of these are handpicked by us after scouring the available options and comparing the features. We looked into the customer opinions to give you an in-depth and helpful review.
Before we get into the review, let's see what are the things you need to consider before buying. Let's get started.
Quick View: 5 Best Chicken Coop Cleaner and Deodorizer
Things to Consider Before Buying
Before making a purchase, knowing what to look for will help you make a more informed decision. Here are the things to consider before buying.
Safe and Chemical Free
One of your priorities when picking out a coop cleaner and deodorizer is it must be made from all-natural products. If that's not possible, it should at least not have any harmful substances that can be dangerous to your poultry.
The last thing you want is to douse the coop with harmful substances and end up harming the chicken's health in the name of cleaning their coop.
Air Fresheners vs Deodorizers
Be wary of the difference between air fresheners and deodorizers. Although some people may use these words interchangeably, there is a big difference. Air fresheners only give you temporary relief from odors.
Give it a while, and the smell will come back again. Deodorizers, on the other hand, will completely get rid of the smell from the molecular level. That's the level of performance you want.
Easy to Use
An easy-to-use and apply deodorizer is something you would thank yourself for later. Preferably look for ones that you can spray. Some even come with an included garden sprayer.
Versatility
Cleaners you can use for different applications like cleaning rugs, carpets and also cat litter or cages are obviously better. So, look out for cleaners that are versatile, which will increase the usability and also the functionality of the one you get.
Brand and Price
Lastly, we have the brand and price. When it comes to picking a price point it's all about deciding on a price point and then picking one that fits the budget. Of course, you need to make sure it has all the features we mentioned above. All the brands in this list are reputed. So, you can pick anyone without too much worry.
Best Chicken Coop Cleaner & Deodorizer Reviewed
There are a lot of products you can buy. Not all of them are worth spending your hard-earned money on. This 5 we handpicked are some of the top choices you can buy. So, let's get on with the detailed review of these.

Our first product of the day is from Absolutely Clean. With a brand name like that, you would guess it would do a fantastic job. Well, fortunately, it does exactly that, and we love it for that.
One of the best things about it is its all-natural enzymes. Thanks to its all-natural formula and enzymes, you can use it in all places where animals are housed without worrying about their health. The enzymes are powerful and get to work instantly.
Since it comes in a spray bottle, using it is also very easy. In fact, that's actually one of its selling points. This one is very easy and simple to use and clean with. All you need to do is remove the bedding of the animals and spray the solution in the places you want to clean.
There is an included garden sprayer as well. That sweetens the deal even more. Got a fair amount of outdoor space? Guess what? You can use this coop cleaner and deodorizer outdoors as well. It will easily work when you need to clean yards, sheds and can remove stains and odor from practically any surface.
On top of all this, it's also veterinarian-approved. Farmers will love the omission of any harsh and harmful chemicals. This will keep your animals and chickens completely safe and healthy.
Of course, make sure you remove the chickens from the places you spray and clean first. If you follow the instructions properly, you will have a fantastic time using them.
Absolutely Clean's deodorizer one is the overall best deodorizer you can buy and will be enough for most people. It works great and is easy to use.
---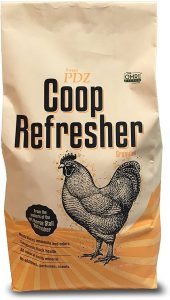 This one from the guys over at Sweet PDZ is an easy choice for those who want a cleaner with years of proven results. It's made in the US and also has 33 years of solid track record cleaning and deodorizing. Yes, you read that right – 33 years!
Having that much experience in making cleaning products for chicken coops, you would expect the brand knows a thing or two about what they are doing. That's exactly the case here. This cleaner is made from all-natural and non-toxic granular material.
It's the perfect choice for cleaning coops if you don't want any jarring scents messing up the place. Your chickens and livestock can live in a clean and healthy environment. Which is something we are sure all of us want.
Might we add that the customer opinions of this one are pretty good as well? We have gone through quite a lot of them, and everyone is happily satisfied with its performance.
If you're the type of person that likes to research the things they buy, which we assume you are since you're reading this review, you can give this cleaner a try. You won't be disappointed.
There is a bit of a caveat, though. The cost of this is a bit high compared to other products on this list. That's the only small gripe we have with this one. But if you want a premium product that gets the job done, we think the cost is justified. It's easy to use and very effective.
If you don't need a very heavy-duty deodorizer, Sweet PDZ has you covered. This one comes second in our review for its adequate performance.
---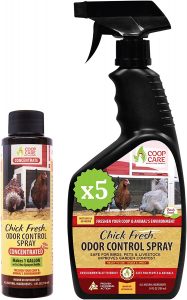 How about a coop cleaner that's super easy to use and also works for all kinds of different applications? Looks like that's exactly what this is. It's a very easy-to-use and versatile cleaner and comes in a convenient spray bottle.
Let's get right into how seamless the application is. The spray bottle packaging it comes in makes it one of the most hassle-free coop cleaners and deodorizers you can find in the market right now.
The sprayer makes it super easy to target specific areas that are the worst affected and spray the solution directly on that spot.
Apart from that, the all-natural and animal-safe formula makes it one of the safest cleaners you can use. You don't need to worry about any harmful effects or harming livestock when cleaning.
Cleaners that use artificial and harmful chemicals can severely hamper the respiratory system of young chicks. Thankfully, that's a non-issue with this one.
Perhaps one of the best things we liked about it is its versatility. You aren't just limited to using it on chicken coops. This cleaner works for all kinds of different applications like cleaning litter boxes, hamsters or Guinea pig cages, and even hardwood floors and carpets. Few cleaners are that versatile.
Couple all of these with the seamless application process, and what you end up with is one of the top cleaners you can buy for your chicken coop.
This is one of the easiest to use thanks to the spray nozzle and has a wide application process. If you need one that can do other tasks other than just cleaning coops, this one is an easy recommendation from us.
---

Why settle for a low-quality cleaner that doesn't even get rid of the odor properly? The Coop 'N Compost from the guys over at Manna Pro not only gets rid of bad smells and odors completely but also reduces moisture.
Okay, let's address the elephant in the room. There isn't a sprayer with this one. That might disappoint some users, but it is a very minor issue. We think you can easily look over it given how well this cleaner works.
Use it once, and you will instantly know what we mean. It can easily handle odor and smells and make the environment drier and cleaner. That's exactly the kind of place you would want your chickens and poultry to live in.
Another cool thing is that it is safe for the animals, but it will also extend the life of the bedding. So, you don't have to constantly change the bedding from time to time. And we are sure you don't need us telling you why that's a plus. Using this cleaner will save you a lot of headaches.
The performance is fantastic. It will easily handle unpleasant odors and smells that can build up in chicken coops over time and get rid of harmful substances as well. At the end of the day, what you end up with is a safe and clean chicken coop that will make everyone happy.
All these cool features are awesome as is. But you get a bonus. This one improves the quality of your compost. Now that's a great value. You can easily tell why this managed to take a spot in our review. Manna Pro really pulled off something special here.
Good for people who want to extend the life of their compost and bedding.
---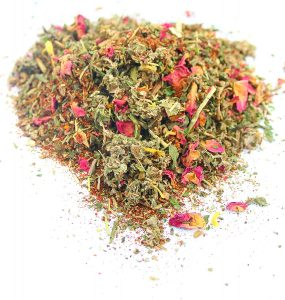 How about something that pulls double duty as nesting herbs and also coop deodorizer? That's what we have for you here. The Pampered Chicken Mama nesting herbs are a completely non-GMO and natural synthetic nesting herb that helps your chickens in more ways than one.
Since it's a nesting herb, you can use it as a fun and healthy herb which will improve your chicken's digestion and also help them lay better eggs. That's already a super great deal. But wait! There is more good news.
This is very safe and completely non-GMO, which promotes a clean and healthy chicken coop. The dry substances can be easily used as a deodorizer to keep the coop completely clean and moisture-free.
Oh, and these do not have any harmful chemicals, your animals will be super safe as well. And that's priceless. The brand carefully chose a blend that was specifically suitable for chickens. The pine shavings make it super fun for your poultry.
The WormsBGone herbs, apart from being a quirky name, also serve a functional purpose. That's to keep the coop safe from unnecessary moisture and dirt and will help with the odor.
This one is an easy choice for someone who is looking for a versatile and multipurpose deodorizer from a reputed name with good customer feedback.
A perfect nesting herb that can be used as a deodorizer and also helps with your chicken's health and digestive system.
---
Our Top Pick
While all of the ones we reviewed in this list will be perfectly fine for getting the job done, we have to choose the Absolutely Clean Chicken Coop Cleaner and Deodorizer as our top pick.
It just checks all the boxes that make it the best. The brand managed to make a safe, all-natural deodorizer that tackles all sorts of odors and keeps the coops clean and healthy. The fact that you can use it outdoors only adds more value to the overall package.
Final Words
Well, there you have it. Now you know what is the best chicken coop cleaner & deodorizer you can buy in 2021. Make sure to look for safe and chemical-free products that not only act as an air freshener but also a deodorizer. Plus, having an easy way to apply it doesn't hurt either.