Taking care of chickens isn't as straightforward as many people make it seem. It takes a lot of effort and time. The biggest problem, however, is getting the best chicken feed.
The ideal feed for your chicken will help them grow faster than if you left them to feed on scraps. Most people think it is okay to let their chicken feed on leftovers instead of nutritious chicken feed. Which is wrong.
But selecting the suitable chicken feed requires a lot of research. We fully recognize this, which is why we have done the hard work and rounded up the best chicken feed brands to enable you to start feeding your chickens immediately. Let's dive in.
Our Top Pick – Best Chicken Feed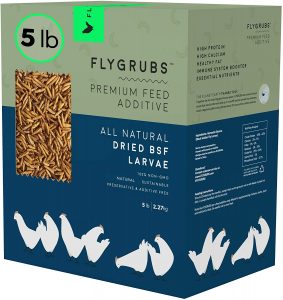 After hours of research, we did select the Flygrubs Superior Mealworms as the top chicken feed. It's an entirely natural feed for chickens with the right concertation of nutrients that will enable your chickens to thrive. It has 85x more calcium than mealworms, 36-42% protein, 25-30% healthy fat, phosphorus, fiber, lysine & dietary fat.
It promotes stronger eggshells, quick recovery, and healthier feather production. This grain-free organic chicken feed supports your hen's immune system.
---
Top Chicken Feed Brands
There are several brands in the market, that have been bringing a revolution in chicken feed over the years. Some of these brands are:
8 Best Chicken Feeds
The ideal chicken feed is the one that is budget-friendly and also nutritious for the chicken. Also, there are different feeds for different stages, like chickens, laying hens, meat production, etc. Let's take a look at our top pick list: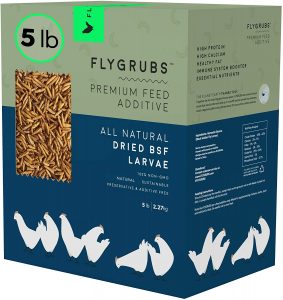 This chicken feed is available in 5lbs of calcium-rich non-GMO feed that you can scatter on the ground for your chickens to feed naturally. It has a healthy concentration of all the essential nutrients required to make your chickens grow and mature faster.
Not only does it contain 42 percent more protein, but it also has over 25 percent of healthy fat. In addition to those nutrients, this feed also gives chickens phosphorus, lysine, fiber, and dietary fat.
It is also much easier to handle than live mealworms since it comes as meal crumbs. The consistency of these mealworms is better than that of freeze-dried worms.
The Flygrubs mealworms consist of healthy and naturally dried larvae that chickens love. This feed will also encourage the formation of stronger eggshells and help your chickens to regain their normal energy levels after egg laying.
All the nutritional benefits this feed provides will also ensure your chicken has better immunity. What more could you ask from a chicken feed? Only remember that it will take some time before your chickens start loving them. This is also the best organic chicken feed.
---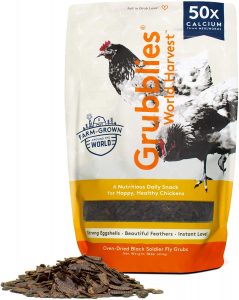 These are natural food grubs for your chicken made from black soldier fly larvae. Apart from the nutrients, this feed will also boost your chickens' feather and egg production. And who doesn't want their chicken to lay more eggs!
Grubblies will also be a natural supplement that will help your birds regain their energy after egg laying. That makes it one of the best chicken feeds for egg production. That will enable them to resume egg-laying faster than before, boosting productivity.
This chicken feed will not only boost egg production as the nutrients it contains also enable the chicken to lay eggs with stronger shells. The calcium on offer from this chicken feed will also ensure the eggs are safe from deformation and egg binding.
Among the nutrients, this feed will provide your chicken with proteins, fiber, lysine, phosphorus, and, of course, calcium. Calcium is so adequate in this chicken feed that you won't need any extra calcium supplements.
Another thing that should endear you to this chicken feed is the fact that it is all-natural. There are no additives, GMO or artificial ingredients. You are sure there won't be any unforeseen side effects for your chickens, making this feed one of the best chicken feed for layers.
You can train your chickens to come running for this feed by shaking the bag. And if you have other birds, this feed will also be ideal for them.
---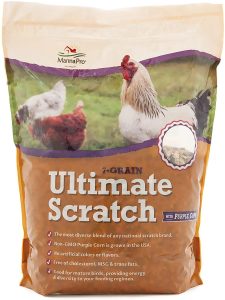 Another excellent chicken feed you should consider for your chickens is the Manna Pro Chicken Scratch. It has a perfect balance of seven grains that you can feed your chicken with love.
As is the running theme for all the chicken feed so far, this feed is also all-natural with zero artificial additives. It is from purple corn that is deliberately colorful to attract your chickens to them. The bright color of the feed should make your chicken love it.
The Manna chicken feed is not only suitable for chickens, and you can also use it for ducks, turkeys, and geese.
This feed is, however, not ideal for chickens below eight weeks old. That's because the food particles are large and would give smaller birds difficulties eating. They will also require you to provide your chickens with a lot of water.
---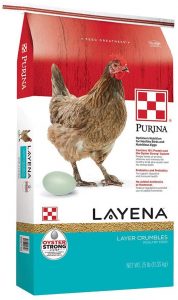 If you own layers and want to boost egg production, Purina Layena is one of the best chicken feed for laying hens. It gives you chicken Xanthophyll responsible for the deep yellow yolks, that you will love in your chickens' eggs.
This feed also has the right concentration of calcium and manganese to ensure that the chickens lay eggs with strong shells. Additionally, the feed will also give your birds lysine and other trace elements to boost egg production. The feed also has nutrients that will ensure your birds have better feathers for more healthy birds.
Additionally, Purina Layena chicken feed consists of pro and prebiotics that are usually responsible for stronger chicken immune systems. That will help make your chickens resistant to poultry diseases.
Finally, another thing you will love is the vitamins the chicken feed provides. It boasts of vitamins A, D, and E that ensure you are rearing strong and healthy birds.
---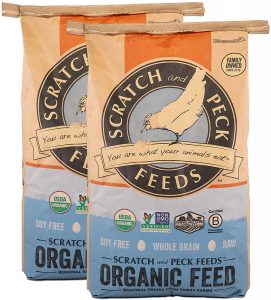 The Scratch and Peck chicken feed is an all-natural USDA-certified organic chicken feed. It prides itself on natural ingredients free of any artificial fortifications and the highest quality.
This feed isn't like most other feeds on the market. It is raw, which helps it to retain some of the nutrients your birds need. The whole grain is ideal for fermenting which, makes it more palatable for your birds.
It is soy and corn-free, unlike other birds. Soy and corn aren't that essential for chickens, so this feed doesn't have them as components.
You can feed it either to layer hens or ducks. You will, however, have to ensure the chickens have plenty of water. It is also with remembering that they are ideal for chickens above 20 weeks because of the particles' sizes.
The Scratch and Peck Feed boats a long shelf life that means you won't have to worry about molds forming on the feeds and making it hazardous for your birds.
---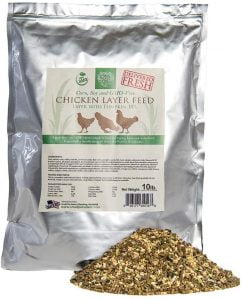 The small pet chicken feed prides itself on the use of natural ingredients from the Pacific Northwest. That means it won't have any unforeseen side effects on your layers and their egg production.
It is also free of soy, corn, and GMOs. Instead, it contains omega-3 fats, high protein content as well as seeds and herbs. That will enable t to give your chickens the natural balance of nutrients they need to mature faster and produce more eggs.
What will pique your interest is the protein on offer with this chicken feed. The high protein gains and other combinations will ensure your birds have the best chicken feed mix.
Because of the size of the grains, it wouldn't be advisable to feed small birds. However, for adult birds, three quarters a cup a day will be enough for most, depending on the number of chickens you have.
Chickens will love this feed, thanks to the palatable colors. You won't have issues feeding them with the small pet chicken feed. The nutrients it contains will also help you boost the chickens' egg-laying.
---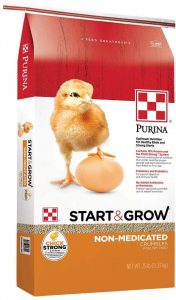 The Purina Start and Grow chicken feed contains prebiotics and probiotics that are sure to boost your chicken's immune system and improves digestive health.
In addition to the probiotics and prebiotics, it also contains essential amino acids in levels that will benefit your chickens. Eighteen percent protein, methionine, and lysine boost not only immunity but also egg production.
Additionally, this feed also has essential vitamins that are sure to ensure better health. The vitamins include A, B, D, E, and K. Together with lysins and methionine; the vitamins will promote skeletal and muscle development in your birds and boost the quality of feathers.
Another additional nutrient to boost your chicken's plumage is the marigold extract. The extract ensures bright-colored beaks and brighter plumages in chicks.
The balanced and complete recipe of 38 different chick nutrients marks this feed as one of the best chicken feed for young chicks. Not only will your chicks be healthy, but they will also grow at the right pace.
---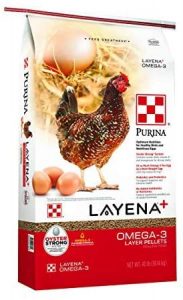 This is the Purina Layena version of feeds that is exclusively for layers. If you want to produce larger and more nutritious eggs, it would be a good idea t try out this feed that boasts omega-3 formula.
To emphasize this feed's focus on the eggs, it has a marigold extract responsible for brighter colored yolks inside the large eggs you will get. With 16 percent protein content and 3.5 percent calcium, this feed is the best chicken feed for best-tasting eggs.
The feed also has methionine and lysine that will help produce better eggs and chicks with attractive feathers. In addition to these nutrients, this feed also contains probiotics and prebiotics that boost the chickens' immune system.
With the ideal mix of nutrients, this feed marks itself out as a good option if you have egg-laying chicken. The chickens will have better digestive health and mature into healthy chickens.
---
How to Choose the Best Commercial Chicken Feed
Before buying chicken feed, there are a few things you will have to think about. Apart from the nutrients your chickens need, you might also have to factor in the price of the feed you want to buy.
Let's look at those things you need to consider.
How much food do you feed your chickens?
Only you know your chickens best. If they feed a lot, you will have to buy a more considerable amount of the feed. Most chickens need feeding multiple times during the day, which is why you need to consider the quantity of the meal.
Chickens will have no qualms eating as much as they want, and for that reason, you need to ensure you get adequate amounts for them.
Here is a simple chicken feed calculator that will help you find out how much feed you will need.
What are the best nutrients for your chicken?
Like any other domestic animal, Chickens also need nutrients to grow into mature and productive adult chickens. That is why every food you buy should have these nutrients. While most foods claim to have the nutrients needed for chickens, not all are guaranteed to be in the food.
That is why you need to be careful when buying the feed. If your chickens need proteins, get feeds that contain proteins. If they are calcium deficient, get foods rich in calcium. You can check for calcium deficiency by the quality of the eggshells. Fragile shells show a lack of calcium.
Is it the Correct Feed?
It would help if you asked yourself this question since you might end up buying a feed that your chickens don't like. Since you are the caregiver, you must have an idea about the preferences of your chickens.
Some chickens might be picky and refuse to eat most feeds you buy, but some won't eat at all. That will mean you have to invest in brightly colored feeds to entice the chickens to eat without much fuss.
What are the Ingredients?
You should consider the ingredients that make up the chicken feed because it could be the difference between the birds gobbling up all the feeds or refusing to eat. Most of the products we have reviewed here have all-natural ingredients.
With the rising GMO foods, you will need to look for the best non-GMO chicken feed. Most brands will say they are non-GMO, while in reality, they aren't.
You, therefore, will need to scrutinize the ingredients before buying the feed carefully. Some feed brands will include some limestone or oyster shells to help the chicken grind food. You also need to look out for this and see whether it would be ideal for your chickens.
The Age of Your Chickens
Before buying any feeds, you will have to consider the age of your chickens. That's because some feeds might contain large particles that wouldn't be suitable for chicks. Some feeds have specifications saying you need to feed them only to chickens above a certain number of weeks old.
To ensure you don't mistakenly buy feeds that wouldn't fit your chickens' age profile, you need to consider this. You will find the specifications on the product telling you the age the feed is suitable for.
How Much Does the Feed Cost?
Chicken feed varies in price, but there is no disputing there is a feed for every budget. Before buying, you will need to consider the cost and see whether it matches your budget or not.
Checking the rice will also let you know whether the chicken feed matches the quality you are excepting or not. It's essential to check the cost because you might want to buy in bulk and be looking for a discount.
No one would mind a quality product but at a reasonable price.
How Will you Know you are Giving the Right Feed?
You don't need to be a hands-on caregiver to quickly notice that your chickens don't like the food you are giving them. If they love the food, then it will mean it is the correct feed for them.
Also, you can notice that although the chickens are eating the food, there isn't any noticeable difference in their well-being. That should tell you that the food isn't the correct one for your chickens.
Another thing to look out for is if the chickens develop problems whenever they at the fed. It could be that they are allergic to a component of the feed or that the feed doesn't agree with their digestive system. You will know whenever the food isn't helping them much apart from filling their gizzards.
Chickens aren't complicated animals to understand. They will show you if they don't like the food. Changing to a more palatable brand might be a good idea then.
Final Thoughts
Now that you know the best chicken feed for your birds, we hope you can transform your kitchen farming project. It doesn't matter whether you are doing it for fun or profit; chickens need the best food to thrive.
Suppose you were looking for such food, what better place to start than here. Remember to look at the feeds' nutrient level before buying to ensure you don't buy food that won't help your chickens.
The chicken feed brands we have discussed here have the proper concentration of nutrients for your chicken. They are also entirely natural, with no traces of GMO. They, therefore, are safe for your chickens and worth trying out.
All the best.