If you own pigeons, then you would only want the best for them from their living conditioned to food. That is why you need to have the best pigeon feed to ensure they are nourished and comfortable.
Feeding pigeons isn't that hard if you are getting their nutritional requirements right. You, however, have to remember not to overfeed the birds. That's why leftover food should be a pointer to reduce the food rations.
There is a multitude of options available on the market if you are looking for pigeon feed. Perhaps that's why most people would have trouble selecting the best. Before you scratch out all your hair, thinking of the best commercial pigeon feed, have a look at our list.
Our Top Pick for the Best Pigeon Feed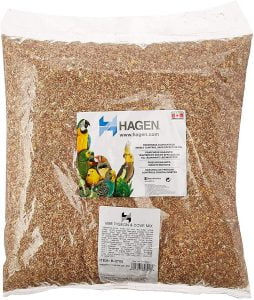 Our top pick for the best pigeon feed is The Hagen Pigeon and Dove Feed. It is the ideal pigeon feed if you are looking for a perfectly balanced nutritious feed for pigeons. The feed has a perfect mix of nutrients and essential vitamins needed by your pigeons.
---
Popular Pigeon Feed Brands
There are several brands in the market, that have been providing the best pigeon feed over the years. Some of these brands are:
7 Best Pigeon Feeds
Selecting the right pigeon feed is critical. The perfect pigeon feed can vary depending on your pigeon breed, size and age. Here are the details of top 7 pigeon feeds: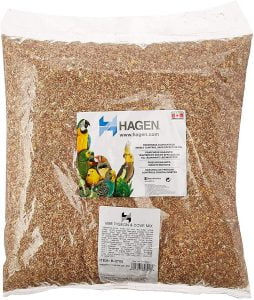 The Hagen Pigeon feed has the highest quality of seeds with the ideal balance of nutrients your pigeons will need. It comes in a 25-pound bag and is suitable for doves as well.
This Vme seed feed could be a staple for your doves and pigeons and should help them thrive. Its ideal balance of vitamins and essential amino acids will help your pigeons to grow strong and healthy.
These seeds are cleaned with air before polishing, resulting in the tasty mix your birds will love. The air dying also makes it dust-free, which ensures the birds will gobble all of the feed.
It contains nutrients such as zinc, manganese, and calcium to help deal with certain deficiencies in your pigeons. It uses red millo, white millet, canary grass food, feed oats, and other natural ingredients.
The natural ingredient free of GMO will ensure your pigeon is safe eating this food. While pigeons are easy to maintain, you will have to follow a comprehensive feeding guide when using this feed.
If you are looking for one of the best pigeon feed mix, this feed could be the one your birds need.
---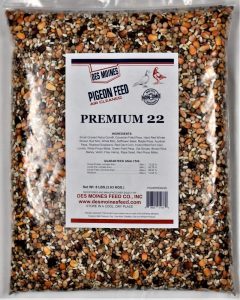 The Premium 22 Pigeon mix is an ideal balance of different grains that should satisfy even the fussiest eaters. With the 22 other grains, any pigeon should find what they are looking for in the feed.
Additionally, the 13.25 percent of proteins and 65 percent of carbohydrates enable the feed to give pigeons the strength to race. That makes it the best racing pigeon feed mix. It also contains enough calories(1785K/Cal) that will have your birds flying about with energy.
This feed also uses all-natural ingredients that won't be harmful to your bird. In case you are worried about GMOs, that should be the least of your concerns as this feed contains none of it.
The Premium feed would be okay for different pigeon species, including the American King, the English Carrier, and the Frillback. That's not surprising, seeing the perfect mix of nutrients it contains.
With the 25 percent of peas in this mix, you can be sure doves will also enjoy this feed as much as your pigeons. Who knows, maybe it might even attract a few wild birds you'd love to see.
---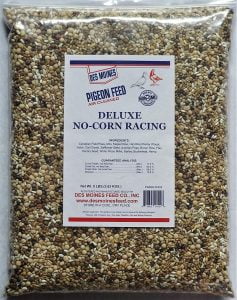 This feed is a high protein mix that is perfect for racing pigeons. It is formulated to be used for racing birds when conditioning them and even during the race itself. When mixed with corn, you can feed it straight to the bird as a top race conditioner.
It doesn't just stop with the proteins since it also has about 63 percent of carbohydrates as well as a substantial ratio of calories to give the birds the energy to the race.
Like all the other feeds on this list, it also has all-natural ingredients safe for your pigeons. The various feed components ensure your pigeons likes the food and help you avoid them being selective feeders.
The bald head roller, racing homer, and show racer are some of the species that would love this feed. It isn't surprising that most pigeon species will eat the feed with the added peas.
If this feed doesn't satisfy you consider the next product on our list and compare them for your benefit.
---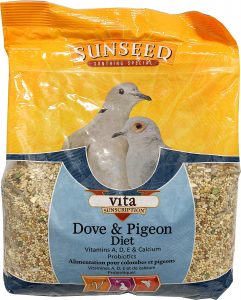 The Vita Sunscript is a pigeon and dove foraging food made from a blend of vegetables, seeds, and grains to form a delicious meal. That helps the bird to have excellent digestive health as well as better quality feathers.
That is because the ingredients feature vitamins and a variety of nutrients that will boost plumage formation. In addition to that, the food will ensure your pigeons are as energetic as possible to make them into strong birds.
Additionally, the Vita Sunscript pigeon feed has been fortified with chelated minerals, omega fatty acids, probiotics, and vitamins. Those nutrients help the feed to meet the nutritional needs of most species of pigeons.
If you own companion pigeons or doves, the nutritional content of this feed will ensure they grow into strong and healthy birds.
If you want a happy bird that is strong and healthy, this feed should come quite close to what you are looking for. Perhaps the next pigeon feed should have something closer to what you are looking for.
---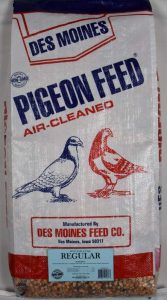 This is a Des Moines original mix with added small grade nutracorn. Its 20 percent peas and the well-balanced ratio of other nutrients make it a relatively healthy pigeon feed mix.
This feed boasts 12 percent protein content, about 72 percent carbohydrates, and calories up to 355Kcal per 100 grams. This perfect mix of nutrients and minerals is what makes this feed such a good option for your pigeons.
It also features crude fat and fiber that will aid in the digestive health of your birds as well as give them strength. The ingredients that make this feed are entirely natural and feature no GMOs. You are, therefore, sure your birds will be safe eating it.
The Des Moines pigeon mix is ideal for American King, Racing homer, show racer the swallow among other species. With the wide range of species, it is perfect for you to have no fear it might turn out drastic for your particular pigeon species.
If you have a pigeon that loves small-grade corn, then this feed will be an excellent fit for you. Therefore, don't be afraid to try it out. If you think it doesn't fit the bill, have a look at the next feed on our list.
---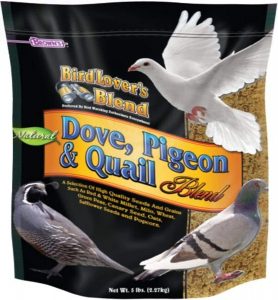 Rounding up our list of the best pigeon feed is the Brown's dove and pigeon feed. This feed boasts all-natural gourmet ingredients that mean it will be not only nutritious but also safe for your pigeons.
Its combination of red and white millet, wheat, popcorn, safflower seeds, and other ingredients makes it a wholesome all-year-round feed. It is suitable for birds of any age as long as they are old enough to eat.
One thing you will love with this feed is that it is ideal for any breed, unlike other feeds that are only good for specific pigeon breeds. With the balanced nutrients this feed offers, your birds will have strong immunity and healthy digestive systems.
The balance of various ingredients also tells you that most of your birds will gobble up this food. If you have fussy and picky birds, this feed should be ideal for them.
---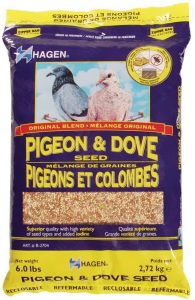 This variety of the Hagen Pigeon feed will guarantee your birds' nutritious food that will nourish and strengthen them. The seeds come in a 6-pound bag, unlike the previous product of the same company that comes in a 25-pound bag.
Whether your pigeons are wild or domesticated, this feed has the ideal balance of nutrients that would be best for them. In addition to those nutrients, it also has the perfect mix of vitamins to help the birds grow healthy and strong.
Several times you might buy feeds, and because of the elaborate shipping time, it gets to you in unusable shape. However, with this feed, you won't have to worry about that as it is packed in airbags that preserve the feed's freshness till arrival.
Some of the vitamins that your birds will get in this feed include Vitamins A, D3, and Vitamin E. Manganese and Calcium are some of the top minerals this feed contains, marking it out as a nutritious feed.
Like the feed above, it is of all-natural ingredients and doesn't have any GMOs. That makes it not only a safe feed for your birds but also one of the best non-GMO pigeon feeds.
---
Important Points to Remember on Pigeon Care
When feeding your pigeons, ensure you also give them plenty of clean water as it will aid in digestion
Always ensure you wash the pigeon's food containers at the end of each day. That will prevent any health issues from leftover food that might have gone bad.
No matter where you choose to house your pigeons, the coop should be as far away from direct sunlight as possible. The coop should also be inaccessible to drafts as well as your other pets like cats or dogs.
The coops should have strong perching structures and should always be clean. You don't want your pigeons contracting diseases from dirty coops
How to Choose the Best Pigeon Feed
If you are to get it right selecting a pigeon feed, you need to consider a few factors. While pigeons are the easiest to feed, you can afford to do it in a haphazard manner that could put the lives of the pigeons at risk.
How do you choose the best feed for your pigeons, and what do you need to consider?
Is the Feed Age-Specific?
As you might have noticed with any other animal feeds, pigeon feeds can all be age-specific. That means that they are only suitable for pigeons over a certain age. The main issue here with such feeds is that the seeds might be too large for smaller birds.
That is why you need to consider the age limit on the feed. That will ensure you get the ideal feed for your pigeons. You don't want to end up with a feed your pigeon can't eat due to the grain size. Fortunately, most feeds are usually ideal for all age ranges.
What are your Pigeons Tastes and Preferences?
If you've had your pigeon for some time, you must understand its feeding habits. While most pigeons will eat most grains, some could be quite picky. Some even pick only certain grains from an assortment of grains from a feed.
You will need to know this if you want to avoid losing money to a feed your pigeons don't like. If you are the primary caregiver, this shouldn't be too hard to notice. With pigeons, it's easy to tell they don't want a particular feed.
What are the Ingredients of the Feed?
Most pigeon feed will have a collection of ingredients that makes them the nutritious mix that your birds will love. Going hand in hand with knowing the tastes and preferences, you will need to know each ingredient in the feed.
Your birds might be allergic to some feed components, which is to say you need to tread carefully here. Nothing is as annoying as buying something that you will not use because it is useless.
Reading the list of ingredients will also enable you to know whether the feed might contain any GMO extracts. Most pigeon owners frown upon GMO feeds as they don't know the reaction they might elicit in the pigeons or even if they will eat them.
Therefore, knowing the ingredients will save you from lots of headaches.
What Do You think are the Nutrients your Pigeons Need?
Most pigeon feed brands will always pride themselves on their feeds' nutrient combinations to entice you to buy them. You shouldn't, however, blindly fall for such marketing strategies easily. Since you are the only one who knows your pigeons' nutritional needs, carefully scrutinize every feed to ensure it is ideal for your pigeons.
While it helps to focus on feeds rich in nutrients such as proteins, you also need to look for feeds with the perfect balance of other nutrients.
How much food do your pigeons consume?
Before buying a specific amount of feed, you need to know the feeding behavior of your pigeons. It is typical for birds to feed several times a day. That should tell you the amount of feed to buy.
Ensure you buy an amount that will be sufficient for the birds and last you for quite some time.
How Do You Know You Have the Correct Pigeon Feed?
As we have said before, you being the primary caregiver of the pigeons, you should know when the birds hate the food you are giving them. If you notice a lot of it remains where you put it for them to eat, it means the birds don't like the food.
There are situations where the birds eat selectively. They could be ignoring all the grains in the feed or eating only the peas. That should also dictate the type of feed you will get for them the next time you are getting their feed.
At times it might be that the pigeons aren't used to the food. Give them some time and monitor their feeding habits. If it doesn't change over time, then it's time to try a new feed. Most pigeons, however, will get used to the food after a few days of trying.
A massive red flag is if the pigeons suddenly become sick after feeding. That will be an obvious pointer to a problem with the food. The list of ingredients should guide you here if you are to diagnose the issue.
What Shouldn't You Feed Your Pigeons?
Pigeons, like other birds, will predominantly feed on grain foods. Although you can diversify to a few different foods, some you should never try as they could kill your pet. Auch foods include chocolate or avocado.
What you want to avoid is giving your pigeon any food humans would enjoy. Unlike chickens, they don't have such a tolerant digestion system and would thus be at risk if given the wrong food.
Equally hazardous to their health is bread as well. Bread crumbs might seem delicious for birds, but it doesn't make any nutritional sense to give such food to a pigeon.
It might be challenging to select the best feed for your pigeons. That is why we have compiled a list of the most popular brands of pigeon feeds for you to make a faster decision.
Final Thoughts
Selecting the best pigeon feed isn't rocket science, particularly if you have our guide to hold your hand. However, before choosing any of them, look at the ingredients list to ensure the feed has all the nutrients that would be ideal for your bird.
Pigeons are relatively easy to take care of, especially if you already know the kind of food they fancy. We hope we have helped you decide which is the best feed to get for your pigeons.
Remember, if you get it right with the food, then that's one step to successfully owning a pigeon as either a pet or a racing bird.
Good luck.