It's a noble deed to keep birdbaths in your backyard. But during the winter season, every bathing bowl will be frozen, so no bird will benefit from it.
Therefore, you need to get the best bird bath deicer to save the feathery friends from this ordeal. But how do you get the most efficient one? Don't worry; we've got your back.
Here we've gathered the top five bird bath deicers that come with a high-grade build, innovative design, and higher functionality. Moreover, our best-picked devices are super easy to use!
So what are we waiting for? Let's get to know them right away!
Quick View: 5 Best Bird Bath Deicers
Things to Consider Before Buying a Bird Bath Deicer
Though we're about to tell you about the most amazing birdbath de-icers you can get, there're some factors you need to consider before making sure it's efficient. So here are the things you need to consider in bird bath heaters to get an optimal experience.
Wattage
Yes, wattage is the most important factor you need to reflect on while getting a bird bath heater. Otherwise, the bathing bowl will never be warm enough, and you don't want that.
Usually, if you get 50-watt heater, you'll be able to enjoy enough efficiency. However, live in an extremely cold area, you can go for higher wattage or get two heaters, whichever you prefer.
Thermostat
Having bird bath heaters with a thermostat is one of the most amazing things you can get. In this way, maintaining the optimal temperature becomes super easy. And if you look around, you'll see that the best bird bath heaters are thermostatically controlled.
When the bird bath water reaches the desired temperature, the thermostat will shut off the device and heat the bath if necessary. Therefore, getting a deicer with this feature will be the wisest choice.
Size of Your Bird Bath Bowl
The size of the bird bath bowl is a necessary thing to consider. Or else you'll end up buying a heater that's too small or too big! If you get a small one, you won't be able to warm up the whole bath, which isn't expectable at all.
Hence, always purchase a bird bath heater according to the size of the bathing dish. This way, you'll never have any trouble maintaining the perfect temperature.
5 Best Bird Bath Deicers Reviews
Now it's time for the bird bath heater reviews. As we've chosen them after weeks of research, you'll never have any complaints if you pick one from this list.
So let's get started, shall we?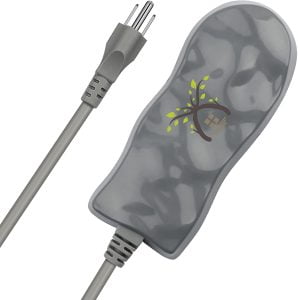 When looking for the best bird bath heater, you'll definitely come across this gem by GESAIL. This deicer comes with outstanding features to ensure a warm and joyful experience for your beloved birdies.
From wild birds to backyard birds, this heater is suitable for anything. You can use this for your house or neighborhood; the possibilities are infinite.
This bird bath heater is made with waterproof construction, ensuring its super long durability. And it can be used on any standard-sized bath bowl made of any material. Yes, this birdbath deicer is suitable for glass, stone, or a plastic bird bath, making it more user-friendly than it already is.
Nobody likes a rusty deicer when keeping a heated bird bath around the house. And so, this innovating heater is made with hard-wearing cast aluminum, which isn't vulnerable to calcifying. Thanks to this feature, you won't have to spend much time cleaning your bird baths, which is a relief.
In addition to everything, this bird bath heater is super easy to use. All you have to do is fully submerge the heater in the water and plug it in. It's a 50-watt heater with a thermostat; hence the machine will shut off once the water reaches an optimal temperature suitable for your bath.
So considering all its inventive features, it's one of the most proficient birdbath heaters; there's no doubt about that!
---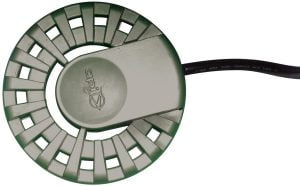 Suppose you're looking for a simple bird bath heater for a fuss-free experience. In that case, you can get this one by Allied Precision Industries (API) without any hesitation. And it comes within an affordable price range, which makes the deal sweeter.
This heater is made with 250 watts, and that's quite powerful, we must say. Thus, even if you live in the coldest area with freezing temperatures, you'll never have any temperature issue whatsoever.
The design is pretty simple and compact, which makes it pretty convenient. You'll also get an ergonomic plastic power cord; therefore, using this deicer on your birdbath won't be an issue.
Besides having a heavy-duty aluminum base, this heater also has a non-stick layer. Thanks to this addition, the whole thing is super easy to clean, and there is no buildup on the device.
As it's designed with a thermostat, you don't have to worry about controlling the temperature anymore. Once you get this bird bath heater for your household, your backyard birds will be happily bathing in warm water. Well, that's the goal!
---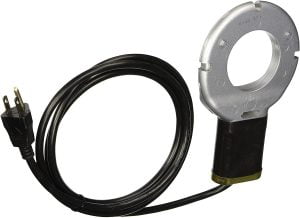 Here's another super-efficient heater for your bird baths that comes with high wattage. With a simple design and powerful performance, this gadget has earned the appreciation of many bird lovers out there.
When it comes to choosing the wattage, you'll get two options. You can get a 250-watt or a 500-watt bird bath heater. So no matter how cold the weather is, your birdies will never have any trouble.
It's one of those thermostatically controlled bird bath heaters; therefore, it will turn off when the temperature falls or rises. Moreover, you can use this one on a large bird bath, and that's something convenient, don't you think?
Thanks to the patented cast aluminum construction, this bird bath heater will last for an exceptionally long time. It's not prone to rusting or calcifying, so you don't have to be tense about its maintenance either. On top of everything, this heater won't melt plastic birdbaths, which is good news.
You can use this device for any farm animal you want, not just for birds. Therefore, while searching for the best bird bath heaters, check out this one for a better experience.
---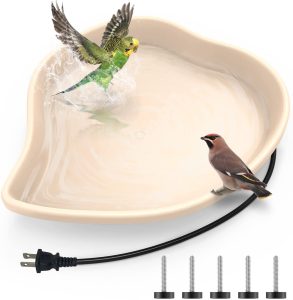 Looking for the best heated bird bath? Well, here's the ultimate suggestion for you. If you don't want to get a separate heater, you can take a look at this one for a sublime experience.
One of the most intriguing facts about this heated bird bath is that it's entirely frost-resistant. As a result, your feathered friends will get fresh warm water in every season, which is all you need!
This heated bowl is made with high-grade plastic; thus, it's super durable yet lightweight. So when it comes to moving or mounting this birdbath on a pedestal or metal stand, you'll never have any trouble. Therefore, if you want to keep heated bird baths around you, consider this one.
While shopping for this energy-saving birdbath, you'll see two different color options. And both colors of these heated bird baths are super soothing; hence, the wild birds won't get scared.
The thermostat keeps the water temperature above the freezing point of 32-degree Fahrenheit. In this way, the birds and other animals will feel comfy while taking a bath or drinking fresh water from this bowl. So when you're planning to attract birds, this is the best bird bath heater with a bowl you can get.
You'll need 60-watt electricity to run this birdbath, and it also comes with an extension power cord. Thus, you can keep it anywhere you want. Additionally, the heating element is perfectly sealed to keep the birds safe and prevent any unpleasant event.
Most bird baths with plastic construction are fragile and don't live up to the mark. But with this birdbath, you don't have to face any problems like that. Therefore, if you want to get a greater value for the money, this is the best all seasons heated bird bath you can get; that's no secret.
---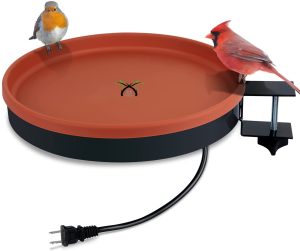 We're about to end our review with this heated birdbath bowl by GESAIL that comes with all the ground-breaking features you expect from a device like this. So it's one of the best-heated bird bath bowls you can get, there's no doubt, to be honest!
This birdbath is available in three attractive colors, which will invite feathery friends to your backyard. And it has a top-grade plastic construction; thus, you can give it some new shades using any spray paint. Therefore, when it's about convenience, you'll never have any complaints about it.
Besides having a sturdy construction, this birdbath is designed with a built-in thermostat. As a result, you won't have to pass sleepless nights thinking about the water temperature. The machine will get turned on and off automatically; hence, the birdies will get fresh water all the time.
This bowl is perfect for any season, from winter to warm weather. Even in summer, some areas may experience temperature drops. In that case, this thermostatically controlled bowl will be perfect.
It is made with 75-watt power to keep the water warm for your friends. And this birdbath is big enough for any backyard or outdoor location, making it more convenient than it already is.
Besides being a thermostatically controlled heater, it is built with an energy-saving design. Therefore, you can do a noble task without losing all your money. So it's better than any existing bird baths out there, isn't it?
This device makes the whole bird-nurturing experience safe and effortless with a fully sealed and enclosed heating element. Moreover, it's one of those shallow bird baths that birds love. And that's something impressive.
Last but not the least, let's talk about the installation procedure of this heated birdbath. You can mount it using three different methods, making it outstandingly ergonomic. This heated bird bath allows you to make it deck mounted, ground-mounted, or you can make it even clamp-mounted. Well, you'll not see this feature in most other products, to be honest.
Despite providing some fantastic benefits, this birdbath is on the reasonably-priced side. Hence, this one should be your target when you have a tight budget but still want to get the best heated bird baths.
---
Frequently Asked Questions (FAQs)
1. Where is the best place to keep a heated bird bath?
You can place your bird baths wherever you want. You can put these bows from your backyard to the town square to help the feathery friends. However, make sure the birds can get easy access to it; otherwise, the bowl won't help.
If you have large trees around your yard or garden, you can keep these bowls on the trees as well. But plugging them in will be a hectic task, and you'll definitely need an outdoor extension cord for doing it.
2. How much electricity will I need to run a birdbath with a heater?
It actually depends on your choice; different birdbaths are available with different amounts of wattage. If you live in extremely cold weather, you'll need a powerful device. And for summer, spring, or warmer regions, you'll require something moderate.
For instance, when you ran when you run a 50-watt birdbath heater per day, you'll have to spend 10 cents on it every day. However, you can also get a thermostatically controlled and energy-saving device to reduce your electricity bills.
3. Is getting a heated bird bath a good idea?
During cold weather, it's difficult for bird species to find a source of freshwater. And when you mount a birdbath with a heater in an open area, the birdies can drink from it or take a nice bath to feel comfy. But while doing this, make sure that the heating element used in the bird bath de-icer is fully enclosed, so the feathered creatures won't be a victim of electrocution.
4. Can I use a bird bath deicer as an aquarium heater?
Yes, some birdbath heaters can also be used as aquarium heaters. However, you need to be careful about temperature management or get a thermostatically controlled one for a better experience.
Final Words
When it's about choosing the best bath deicer, the decision isn't easier. But if you're still confused after reading our detailed reviews, here's a brief suggestion.
For an overall experience, you can get the GESAIL Birdbath Deicer. It comes from a reputed brand, has top-notch features, and offers amazing efficiency. Moreover, you'll also get a similar experience from the Farm Innovators C-250.
And when looking for the best heated bird baths, take a look at the GESAIL Heated Bird Bath Bowl, as it has everything, from an easy installation process to super ergonomic design.