Game roosters or fighting roosters aren't that picky about their food. But if you want to see their healthy plumage and muscles, you need to start adding more protein to their daily diet.
Fighting roosters need nutrient-rich feed for healthy growth and immunity. So, the best food for fighting roosters isn't the regular feed you hand out to the fowls.
We're talking about sunflower seeds, parsley, lentils, oat groats, corn, wheat, millet, and even mealworms. All of which are tough to find in one place every day of the week.
This is where the commercial feed comes in. For today's article, we'll be reviewing six different rooster feeds from different brands.
Keep an eye out for our expert-made diet chart for game roosters and the buyers' handbook!
Quick View: 6 Best Food for Fighting Roosters
---
Best Food for Fighting Roosters Reviewed
If you're worried about what to give your fighting roosters, make time to read our rooster feed reviews below! We assure you- there's something for all your game birds.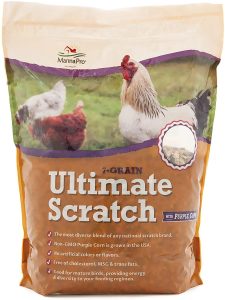 This is a nutritious blend of seven types of grains, and it's bound to keep your flock healthy. If you're looking for a reliable brand of poultry feed, you should try Manna Pro. Your chicks and game roosters will thank you for it!
For starters, it comes with USA-grown, non-GMO purple corn. The purple color spices the scratch up for the chicks. You can watch your backyard flock go to town on this Manna Pro ultimate feed. It's a lot like feeding your kids those colorful gummy vitamins. You don't even have to try!
We like the balanced mixture of this feed. It's actually a combination of seven different grains. Each of them contributes to the growth and overall health of your flock. To break it down, the feed contains a generous amount of wheat, barley, sunflower seeds, milo, millet, and oats.
All these ingredients will keep the beaks, spurs, and claws of your roosters strong. Roosters, in general, are not the only type of flock that can benefit from Ultimate Starch. If you happen to keep turkeys, White Hackles, or Miner Blues, this is the best feed mix for gamefowl.
Manna Pro specifies this product as a treat for mixed flocks. However, you shouldn't give it to chickens before they're eight weeks old. And lastly, don't give your flock moldy feed. Store it in a cool, dry area so that you can use up all ten pounds of it!
We like the 7-Grain Ultimate Chicken Scratch for three reasons. It's a relatively cheap deal considering you get 10lbs. scratch in a single package. Your game birds will be getting a lot of nutrients from it, and the feed is also suitable for other breeds of chickens.
---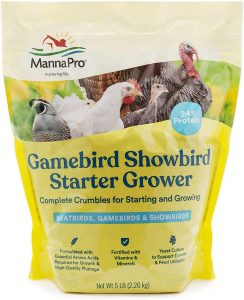 Fighting roosters need a lot of nutrients to thrive. And once again, Manna Pro is here with their magical blends! This feed is enriched with plenty of vitamins, proteins, and minerals. It also gives your game birds a healthy boost of probiotics. Why are probiotics important? You'll find out in a bit!
This particular feed is our favorite for its thoughtful ingredient list. It's one of those rare store-bought feeds that actually include something for your flocks' digestive system.
Everywhere we look, the scratch and crumbles are all about growth. Many poultry feed brands fail to realize that the digestion of fighting roosters is as vital as their growth. This is why we were thrilled to find out that the Manna Pro crumbles have yeast in them.
Yeast will help your game birds absorb more nutrients from the feed. Moving forward, the proteins in this feed will make sure that your birds grow the most beautiful plumage.
If you want to grow show birds, you should give your flock this starter feed from an early age. Unlike the Manna Pro Ultimate 7 Grains feed, this one is suitable for chicks and roosters of all ages.
There is crude fiber and crude fat in the feed, along with a little bit of calcium. So, it might not be the best layer feed you can get. Fresh water and Manna Pro feed every day- it's the ultimate love language for your game birds. Give it a try!
Protein makes up 25% of this Manna Pro feed, and we think it's quite right for growing game roosters. All in all, it has sufficient nutrients for your flock to grow into strong, adult birds. The yeast promotes better digestion in your fighting roosters with healthy probiotics.
---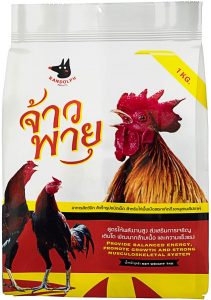 When it comes to vitamin supplements for fighting roosters, the Randolph supplements are our number one choice. They make fatigued gamefowl more energetic and help them come round much faster than usual feed.
We love vitamin supplements for game birds because their needs are more complicated than broiler chickens. In fact, they also need animal proteins and minerals for stronger bones and claws.
Now, we don't want you to chop blueberries, parsley, and plantain every day for the roosters. This Randolph poultry feed covers everything from vitamins to crude fibers, Omega 3 fatty acids, and fibrous inulins.
It's more suitable for young roosters and hens than it is for fully matured game birds. Their plumage will be a sight to see, and they should be able to keep up their stamina for a longer time.
With regular consumption, game roosters should be noticeably stronger and healthier. And Randolph has quite the ingredient list to back it up! Diving into the ingredients, we found corn starch, soybeans, sunflower oil, arginine, multivitamins, minerals, Omega 3-6 oils, and probiotics.
The Randolph vitamin supplement should comprise 30% of the total feed. You can fill it in with mixed grains, seeds, or plain rice.
It offers the best vitamins for gamefowl and packs plenty of power for fighting roosters to withstand muscle damage, liver and kidney diseases.
Moreover, its high-protein content can help injured roosters towards a fast recovery!
We like the fact that Randolph included Omega 3-6 fatty oils and probiotics in this vitamin supplement. It should give your game roosters a lot of good oils which they can metabolize. Overall, it's an excellent supplementary source of everyday vitamins and minerals for young roosters.
---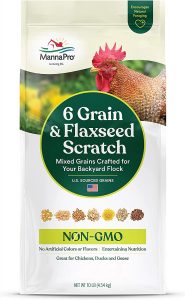 Do you want to get high-quality eggs from your backyard chickens? Flax seeds can help! This chicken feed by Manna Pro includes six types of grains and flax seeds. It gives your flock a nice, healthy boost during the laying cycle!
But, this Manna Pro feed is also, an all-rounder feed for game birds and regular flocks. For one, it's rich in protein, and it strengthens the spurs and claws of fighting roosters. The grains include wheat, corn, barley, millet, oat, and milo. Not to mention, the ingredients are grown in America, and they're non-GMO!
Moving on, the feed comes with flax seeds that are rich in Omega 3 fatty acids. Feeding this special scratch to your hens will help them lay eggs with high Omega 3 fatty acid content. See where we're going from here?
If you're not a vegetarian, you can ditch the supermarket eggs and get better eggs from your own hens!
The same mix is available in chick starter and grower as well as layer mini-pellet styles. Depending on how young or matured your chickens are, you can choose the right chicken feed type for them and the exact mix in all different kinds.
It's a scratch for young roosters and hens in general. So, this particular feed size might not be suitable for your flock if they're any younger than eight weeks.
This is another great rooster feed from Manna Pro. Its key takeaway for us is the addition of flaxseed to six basic kinds of grains. If you want Omega 3 fatty acids from chicken eggs, then this flaxseed-rich feed is a must for your flock.
---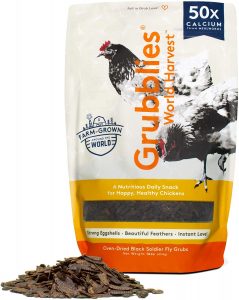 Molting hens and roosters require a lot of protein to regain their energy. And we believe your flock can benefit a lot from Grubblies. For one, it's packed with a lot of natural supplements. Proteins are there in high concentrations.
Secondly, it offers 50 times more calcium than mealworms. Mealworms don't have the optimum calcium levels that it takes to actually prevent egg deformation and binding.
Luckily enough, Grubblies have that ideal 3:1 calcium to phosphorus ratio. It will supplement your chickens with proper nutrition– especially during the molting or the laying periods.
Your chicks might not need oyster shells at all because the calcium from Grubblies will surely cover it!
Now that we have it out of the way, the question you might have is- what are Grubblies? Are they scratch and mini pellets like every other poultry feed? The answer is no.
Grubblies are actually oven-dried larvae of black soldier flies. They are often called grubs, and chicken keepers all over the world feed grubs to their laying hens.
As for Grubblies, these are sustainably grown feed from all around the world. They help the hens lay eggs with much stronger eggshells than before.
Other than roosters, chickens of all ages seem to love some grubs. Spread them around the yard. Let your flock out of the coop. Their day will be made!
Chicken love grubs in general. They're a lot richer in calcium and phosphorus compared to mealworms and oyster shells. Normally, we recommend Grubblies to chicken keepers who are dealing with lazy hens. In any case, they're great treats for your flock.
---
The Rooster Booster is our absolute favorite when it comes to vitamin support for fighting roosters. It's an all-around supplement for sick, injured, or malnourished gamefowl. You need to use it in tiny amounts, but the results will surprise you!
First of all, the Rooster Booster is made from 48 vitamins and natural supplements. It can give extremely sick chickens a fighting chance at life and nourish sick chickens back to health.
We like how effective Rooster Booster has been for other users, and it should work for your flock too!
But first, you need to know how to apply it. The Rooster Booster is not your average scratch with purple corn for display. It's a highly-concentrated vitamin formula and shouldn't be used for more than one drop per kg.
Your chickens will find it easy to absorb. It's not something you should ideally throw in their everyday food.
Instead, use it only for the sick ones so that they get better once again. Especially for game roosters because they're picking fights all the time with other roosters and end up being injured.
At this point, you can probably guess that the best vitamin for gamefowl is the EXTER Rooster Booster. It's not some repackaging of antibiotics. Actually, it's four whooping dozens of vitamins- free of antibiotics through all stages of production. Cool, right?
Pairing Rooster Booster with quality scratch, crumble, and grub will help your chicks recover quickly from their illnesses.
In fact, it will strengthen their immune system and metabolism. Use it every day for up to 5 days- one ml. for every kilogram of weight.
If you want your fighting roosters to be bright-eyed and bushy-tailed once again, Rooster Booster will help. Luckily, it fetches the fastest possible results, provided that you use it in the right proportions.
We're a big fan of its secret vitamin blend. It has helped many game birds complete a successful recovery and regain their fitness.
---
What to Look for Before Buying Feed for Fighting Roosters
Your young fighting roosters need a balanced diet to grow into strong, healthy birds.
So, you need to ensure you have the best feed mix for gamefowl and a healthy food plan made out for your roosters.
Before you buy any kind of chicken feed, take a minute to read our guide below.
• Choosing the Right Feed
Game roosters need to follow a nutritious diet from when they're very young. Most of their growth takes place when the roosters are 6 to 20 weeks old.
For the first ten weeks, you can start with a simple starter chicken feed. It's the same feed you give to all your chickens. Regular chicken scratch with sunflower seeds and parsley is an ideal meal for young roosters.
Moving forward, you should include more protein and minerals in their daily feed. Game roosters need all the protein they can get.
If you give roosters generous servings of oat groats with little water, they can get dehydrated. So, fermented, wet feed is just as necessary as dry mixed grains.
• Protein-Rich Crumbles
When it comes to protein, wheat, corn, pumpkin seeds, and lentils are their top favorites. Mixed grain is an easy solution as it contains 18% of crude protein and fiber.
Corn is a good source of protein for gamefowl. It also contains complex carbs and 350+ kcal energy when added to 10% of the daily keep feed. Wheat is slightly richer in protein, and it helps build strong muscles in roosters.
Jockey oats, on the other hand, contain about 8% protein and 12% fiber. There's always a chance of constipating game roosters with jockey oats and wheat, especially in summer days when the flocks are naturally dehydrated. Keep fresh water inside the chicken coop at all times.
Vegetable proteins don't contain amino acids and vitamin B12 like animal proteins. But you should frequently alternative between grains and greens to give your game birds a balanced meal.
• Vitamins & Minerals
Roosters are omnivore birds, and they can eat pretty much everything you can eat! To ensure that they're getting a healthy dose of vitamins and minerals, introduce greens, fruits, and meat to their daily diet.
Giving roosters only a bland keep feed is like you having oats three times a day. You certainly wouldn't enjoy that now, would you?
This is where it gets interesting! Did you know that you can give fighting roosters fresh veggies? If you haven't done that by now, you definitely should! Dandelions, plantain, oregano, parsley are yummy sources of vitamins A, B, C, E, and K!
• Immunity Boosters
Fighting roosters also need a small portion of herbs for a better immunity system. Chances are, you have all of these herbs in your kitchen!
Ginger, turmeric, and cinnamon share great anti-viral and anti-inflammatory benefits. Turmeric, especially, is a natural antibiotic for roosters and hens. Regular servings of Oregon can ward off avian influenza, bronchitis, E. Coli, and Salmonella in chickens.
• Fruits & Greens
Cinnamon is our favorite antioxidant to give fighting roosters. Blueberries contain phosphorus and selenium- two essential minerals for gamefowl. Dandelions are natural pain relievers, and, like cinnamon, they too have anti-inflammatory properties!
One more thing- roosters and hens love bananas! It's their favorite, and they love banana paste in their food. If you have over-ripe bananas at home, put them in the chicken keep and see for yourself!
Bananas are rich in potassium, protein, magnesium, fiber, vitamins B6 and B12. So, you definitely don't want your roosters to miss out on this all-rounder!
• Digestion-Friendly Grains
Mixed grains are great for fighting roosters. But they can be heavy on their digestion. This is why experienced chicken-keepers will tell you to ferment gamefowl feed from time to time.
When you store away a scratch and warm water mix for a few days, healthy bacteria will begin to grow. At least as long as you're using the nutritious feed.
This type of feed promotes proper digestion in game roosters and helps them fight harmful bacteria as well.
If your roosters don't like homemade fermented feed, you can buy a commercial feed that has yeast in it.
Diet Chart for Fighting Roosters
We exclusively made this diet chart considering the daily requirements of protein, minerals, and vitamins for fighting roosters.
It will help you mix grains and pellets in the proper proportions.


Diet
Composition
Percentage/ Portion
Special Note
Mixed grains
Wheat, oats, barley, millet, sunflower seeds, milo, and corn
10% of the total feed
Adding a bit of honey can make this mix appetizing for the chickens.
Keep feed
Corn- 50% Oat groats- 20% Laying pellets- 10% Racing pigeon mixer feed- 10% Chopped eggs- 10%
Too much corn can constipate the chickens. Split peas, long grain rice, and popcorn are great substitutes!
Game Bird Feed
Fish, boiled eggs, jockey oats, safflower, lentil, wheat, and mealworms
1 part of game bird feed with 1 part of mixed grains
Add Rooster Booster or other vitamin supplements to the feed regularly.
Immunity Boosters
Parsley, cinnamon, ginger, oregano, bananas, blueberries, and plantain
Mix a small portion with the daily grains
Vitamin C helps roosters fight heat stress.
Fermented Feed
Regular feed mixed with warm water and stored for up to 5 days
50% fermented feed with 50% mixed grains
Fermented feed is a healthy way of giving roosters their probiotics!
Frequently Asked Questions
1. How should I mix gamefowl feed at home?
Mixing gamefowl feed at home is quite simple. All you need is whole corn, whole oats, and pellets- one part of each. Adding grit will improve the digestion of your fighting roosters.
You can also add pumpkin seeds or sprouted lentils for extra protein. Any oily fish is good for game birds because they're rich in Omega 3 oils.
2. How often should I give fermented feed to my game birds?
Fermented feed is a good source of probiotics for chickens. Mix any regular flock-raiser feed with warm water in a container. Let it sit for 3 to 4 days with the lid closed. It grows beneficial bacteria inside the feed.
You can also get commercial feed such as the Manna Pro Gamebird Crumbles. It comes with yeast so that you can skip fermenting feed at home.
3. What is a good source of protein for fighting roosters?
Whole wheat has nearly 12% of protein and 12% of fiber. It's a cheap source of protein for fighting roosters. Oat groats have a higher protein content, but they tend to make the roosters thirsty a lot.
So, alternate between whole wheat and oat groats. Adding garden peas, parsley, and pumpkin seeds will build up a nice appetite. Make sure to give your roosters a fish meal every other day in their growing days.
4. Can I give layer feed to home-raised roosters?
You can give layer feed to adult game roosters but don't make it a habit. Layer feed is given to laying hens. It's usually high in calcium because calcium nourishes their bodies during the egg production period. Eating calcium-rich feed on a daily basis can affect the kidney and liver of mature roosters.
5. What should I feed adult game birds?
Mixed grain with a little bit of rice and lentil is enough for most game birds. The scratch should contain enough portions of oat, barley, wheat, millet, and sunflower seeds.
For fighting roosters, a little bit of tuna and sardines work like magic. Give your gamefowl and show birds vitamin supplements like the EXTER Sure Rooster Booster.
Final Words
The best food for fighting roosters is a healthy mix of grains, greens, and animal proteins. It's a lot of work to get the mixtures right and keep it delicious for the flock. This is why it would be a good call to try any of our six rooster feed mixes.
We're positive that the scratch and crumbles we featured today will give your fighting roosters the nutrition they deserve. Thanks for reading!