Magpie ducks aren't always as popular or well-known as Pekin, Khaki Campbell, or even Indian Runner breeds. Still, there is a very dedicated group of people who keep and breed them.
This breed of hens is good at laying eggs of good quality. Both hens and drakes (male ducks that have grown up) make great meat, if their keepers can stand to kill such cute and friendly ducks.
You may also want to read about the best duck food.
The Histoy of Magpie Ducks
M.C. Gower-Williams and Oliver Drake, who were both from Wales, are thought to have created the first Magpie ducks in the 1800s.
The Belgian Huttegem was also used to make the Magpie duck breed by crossing it with another breed. There is a chance that some Belgian Huttegem ducks are also related to the Indian Runner duck breed.
In 1963, a farmer in Michigan named Isaac Hunter was the first person to bring magpie ducks to the United States.
Magpies were not officially recognized as a breed with set standards by the American Poultry Association until 1977.
The association first recognized Black and White Magpie ducks. A few years later, Blue Magpie ducks were also recognized.
A Magpie duck lives for an average of 8 to 12 years.
Magpie Duck Temperament
Magpie ducklings are more likely to become attached to their human caretakers than ducklings of other breeds. This is especially true if they are the only duckling to survive or if there is a long time between the other ducklings hatching.
Most of the time, Magpie ducks are gentle and quiet. They are not as easily scared as their Indian Runner duck ancestors, but they are still more nervous and likely to panic than Pekin, Rouen, and Khaki Campbell ducks.
Magpies can't fly, just like almost all ducks that have been tamed. They can flap their tiny wings to get about a foot off the ground and move a few feet forward, but that's all they can do when it comes to flying.
ducks that are black and white
Magpie Duck Diet And Husbandry
Magpie ducks have the same basic needs as all other duck breeds. They need clean water to drink and swim in all the time, clean bedding, a duck house or coop that protects them from the weather, and a safe place to hang out when they're not free-ranging.
This type of duck can also eat feed for chickens and other poultry. A game bird feed will give them more protein during the cold months, when it's much harder for them to find protein sources on their own.
Magpies can also eat duckling food as long as it is not medicated. This includes waterfowl feed, layer feed, and chick starter.
The best food for ducklings is waterfowl starter crumbles, but it can be hard to find them in agriculture feed stores, especially in rural areas.
If these ducks have a lot of space to roam and a pond to swim in every day, they will find about two-thirds of what they need to eat on their own.
Magpies like to eat tadpoles, tiny frogs, seeds, slugs, berries, snails, small crustaceans, wild greens, small lizards, mosquitoes, their larvae, and other common insects.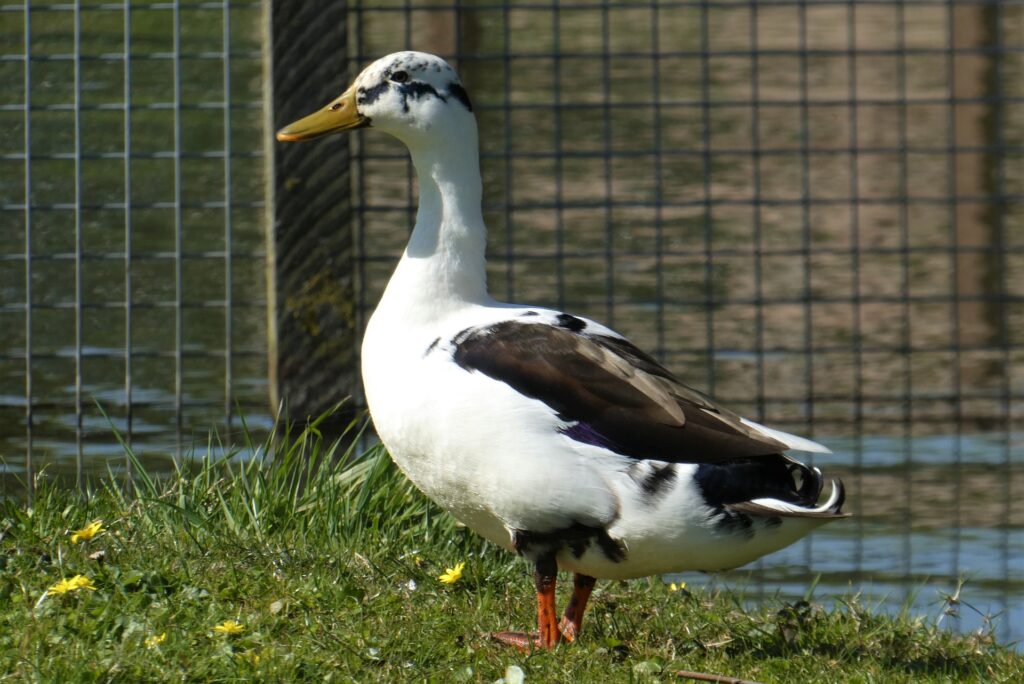 Magpie Ducks Eggs
On average, magpie hens lay between 220 and 290 eggs each year. About 80 grams is how much magpie duck eggs weigh. Make sure to give them a good layer feed.
Most duck hens don't start laying eggs until they are between 25 and 30 weeks old.
On average, Magpie duck eggs hatch in only 18 to 19 days, which is a whole week faster than some other common domesticated duck breeds.
Usually, a Magpie hen will lay six eggs before she decides that her clutch is full and sits the eggs.
Pekin or Indian Runner duck hens don't sit as well as Magpie hens. They will lay eggs more often and consistently, but if you want to grow your flock, you should always buy an incubator.
Some Magpie hens get pregnant, but this is not always the case with this breed of female duck.
Most Magpie hens are good mothers, which is different from their ancestors, the Indian Runner ducks. Most of the time, they will teach and take care of their ducklings after they hatch.
Breeders might still want to put the ducklings in a brooder if they don't know how a newly grown-up hen will care for her young yet. I think you should keep a brooder in the duck run so that the mother duck can see her babies and you can watch how she treats them before letting them run free with the other young and old birds in the flock. Even though ducklings are usually stronger than baby chicks, they can still be trampled, squashed, and killed by the much bigger birds that live in the same area if their mother isn't watching over them.
Even though drakes don't usually attack ducklings (if ever), they can be rough with them if they move too slowly or get in their way. A grown-up duck will use its bill to grab a duckling by the wing and move it out of the way. This action can permanently damage the wing or hurt the feet, legs, and hips if the bird lands hard on solid ground or a coop feature, like a waterer or feeder.
magpie ducklings
Magpie Ducklings and Breeding Tips
Most of the time, the success rate of hatching ducklings is higher if you start with good breeder birds that have strong legs and are active.
A hen that has a history of laying a lot of good-quality eggs tends to be a good breeder as well.
The drake's genes can have a big effect on the size of the eggs a future hen lays and even on her ability to lay eggs. Choose drakes that came from hens that laid eggs and were healthy and strong.
Magpie ducks do best when they have one drake for every five mature hens. Due to the fact that drakes have always had a strong libido, this ratio is a little bit higher than what is recommended for most domesticated duck breeds.
Magpie Ducks Used to Make Meat
Even though Magpie ducks aren't very big, their meat is often thought of as gourmet quality among meat birds.
Because their underbellies are light, Magpie duck carcasses are usually easy to clean out completely.
A full-grown Magpie duck should have enough meat to feed two or three adults.
Magpie ducks are easy to raise with other duck breeds, guineas, and chickens because they are friendly and laid-back.
Some people are sure that you shouldn't raise ducks with chickens or other breeds because you might get ducks and chickens that look like each other. I don't belong to that group.
I've always raised different kinds of ducks together, and I've found that birds tend to stay with their own species as long as each species has a drake and hens.
I had hoped that my Pekins and Khaki Campbell ducks and my Pekins and Magpies would breed so I could get the best egg-laying, setting, and mothering traits from each.
But after four years of mixing different kinds of ducks together and hatching a lot of ducklings, they have never crossed over.
Conclusion
Most people worry that a mean rooster will attack a defenseless duck if they raise ducks and chickens together.
This has never happened to me either. I had the meanest rooster in the world for more than a year. Anyone who came near him except me got hurt.
He never hurt a duck, a duckling, or any other bird in the flock, though.
When mixing with a Magpie duck, it's best to do it slowly and let the birds see and hear each other for at least a few weeks before letting them touch.
I raise my birds together right after they come out of the incubator. They learn from each other quickly and stick together.
When bringing in new and different types of poultry, birds, and waterfowl, the process should be done with care.
Magpies can be hard to find, and there are a certain number of them. It would be a tragedy to lose one to an attack.