If you're among the new chicken coop owners, you might be wondering why the egg production of your chickens becomes lower during the fall and winter. Get the best light for chicken coop.
Your hens require 14 to 16 hours of direct sunlight to produce stimulating hormones for laying eggs. Hence, your hens stop laying eggs in winter as they don't receive enough sunlight. It is also important to provide them with good feed.
In such situations, you need to purchase the best light for the chicken coop to provide supplemental lighting so that you can control how many hours of artificial lighting your chickens receive. However, there are hundreds of supplemental lighting brands available on the marketplace, and choosing one can be a big hassle for you.
To save you from this ordeal, here we will walk you through the finest chicken coop lights and tell you how you can pick one according to your needs. Let's dive right in.
Quick View: 8 Best Lights for Chicken Coop
What to Look for Before Buying?
It's always a good idea to make a well-informed purchase. So, below we have narrowed down some important aspects you need to consider before buying a chicken coop light. Take a look—
Best light for chicken coop, Power
The first thing you need to consider is the power wattage of the chicken coop light. Naturally, it will depend on the size of your chicken coop. For small to medium chicken coops of 100 sq. feet, go for 3 to 4-watt lights.
If the area is larger than 250 sq. feet, you'll need a light with at least 6 watts of power. As for the brightness, 200 lumens are enough for medium-sized chicken coops. Large coops will need 300 lumens or more brightness to be fully illuminated.
Best light for chicken coop, Material
If you want to set the light in an outdoor location, it's important to pick a sturdy and waterproof material to withstand moisture, snow, heat, and rain. In that case, go for IP65 rated waterproof materials. However, such advanced materials can be pretty expensive.
Most chicken coop lights are made of plastic or ABS materials. Some also come with a metal reflector to protect the light. You can choose these lights to illuminate the interior of your chicken coop at affordable prices.
Best light for chicken coop, Convenience
You need to pick a convenient and flexible chicken coop light to save your time and energy. Make sure to go for an easy-to-install coop light with easily understandable settings.
If you're purchasing a solar light, pick the one that can be charged by electricity in emergency cases. Also, the light should be portable so that you can use it for multiple purposes.
Best light for chicken coop, Additional Features
When it comes to useful features, you need to get as much as you can. A solar chicken coop light with a timer will help you to easily control lighting hours. Also, coop lights with remote controls allow you to change the intensity of the light according to your needs.
Check out whether the package includes a pull cord or not. A long cord will help you to use the light both indoors and outdoors.
8 Best Light for Chicken Coop
Now it's time to tell you about our top picks. All 8 chicken coop lights on our list are high-quality and full of excellent features. So go through our detailed lineup and pick one that suits your coop the most.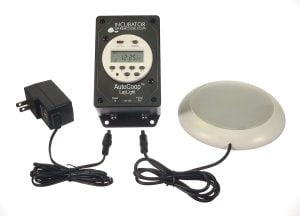 For our first pick, we have a highly efficient, super-bright, white LED light to illuminate your chicken coop at any intensity you want. The AutoCoop LayLight is easy to install with a plethora of different programming options. This is the best light for chicken coop.
As the coop light is made of several small LED chips, it produces a warm and super bright light for year-round egg production. Although the LED lights run on a 110V power supply, it also features batteries that require solar power. Hence, you can use it even when the electricity supply is insufficient.
LED lights are more energy-efficient than fluorescent and incandescent lights. So, your electricity bill will remain low even if you keep the light on for the longest hours. As both the control unit and the LED light comes with long power cords, the installation process will be a breeze for you.
Thanks to its plastic construction, the LayLight can withstand extreme heat and cold. However, it's not recommended for outside use as the light doesn't do well with water and moisture. You can install it on the walls or roof of your chicken coop, shop, or indoor sheds.
What makes this chicken coop light truly amazing is that it's completely automated and customizable. There are 16 different programs to control the lighting hours and the intensity of the LED lights to meet every need of your laying hens.
You can manually set the timer for a certain period and the LED lights will turn on and off automatically according to the program. Thus, you don't have to take the trouble of setting the timer every day. The best light for chicken coop, pros and cons.
Short Verdict
The AutoCoop LayLight with all its automated features is a great choice for busy poultry owners. You can expect the light to provide maximum illumination as long as they're used indoors only.
---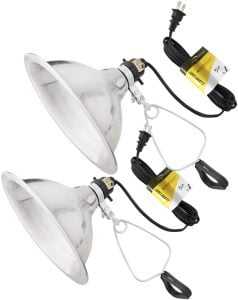 If you want a super flexible clamp light to provide sufficient lighting to your small chicken coop, this particular clamp reflector by Super Deluxe can be an ideal choice. You can easily clamp on this reflector at any place you want, and this fixture will deliver focused lighting to illuminate the area. this is the best light for chicken coop with flexible clamp light.
Thanks to its sturdy construction, the reflector is suitable for both indoor and outdoor uses. The 8.5-inch reflector is made of aluminum to provide the necessary strength and safeguard the fixture from dents and cracks in case it falls from your hands accidentally.
Also, it has a nice metal finish to avoid corrosion and rust. This means the reflector will serve you for years.
As the E26 socket supports up to 150 watt light bulbs, you can use ordinary light bulbs, fluorescent lights, LED lights, or a heat lamp to receive your preferred light output.
Plus, you can go for a blue or red light to improve the overall performance and egg quality. Keep in mind that the package doesn't include any light bulb and so you need to purchase it separately.
The adjustable ball joints, along with a 10-inch long clip grip, allow you to mount the reflector over your chicken coop, art studios, indoor plants, or garages.
Since the fixture runs on electric power, a 6-feet long power cord is provided for easy installation. You can easily control the light with the conveniently placed On/Off button.
A firmly placed clip holds the light bulb fixed in its place and allows rotation up to 360 degrees angles so that you can point the clamp light in any direction you want.
Although the product follows the UL safety standards, you should avoid using incandescent light bulbs or any bulb that produces heat to eliminate any type of potential fire hazard. The best light for chicken coop with flexible lights, pros and cons.
Short Verdict
Super Deluxe offers you a simple, flexible, and easy to operate reflector at affordable prices. You can go for this fixture to illuminate the chicken coops with your preferred lighting.
---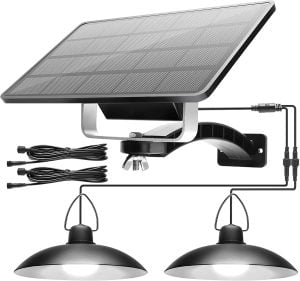 When it comes to arranging supplemental light during the winter months, most poultry owners prefer renewable energy of solar panels for their chicken coops. This is the best light for chicken coop with solar power.
That's why we picked this solar chicken coop light from JACKYLED. You can use these solar-powered lights to produce bright white light after the daylight hours and maintain egg production. If your chicken coop receives direct sunlight, then it is the best choice for you.
While most solar lights are suitable for only outdoor uses, this can be set both indoors and outdoors. The package includes two pendant lights, and both lights are connected to the solar panel by 9.8 feet long connector cable.
Hence, you can easily fix the light indoors just over your chicken coops while the solar panel is charging outside.
On top of that, the solar lights are made from weather-resistant materials like ABS and PC to cope with harsh environmental conditions.
Because of the IP65 wet rating, the solar chicken coop lights can withstand heat, snowfall, frost, and rainwater. Hence, you can easily use the lights indoors for your chicken coops and outdoors as security lights.
What makes these solar lights truly special is their long battery life. As the lights feature 5500mAh batteries, each solar light can serve you for 6 to hours after being fully charged. The lights will automatically turn on when the evening arrives and turn off in the presence of daylight. You can expect bright and cool white lighting from each solar light at 620 lumens. The double bright lights will easily get a large chicken coop fully covered. However, you might receive only half brightness on a dark and cloudy day.
Short Verdict
With all its valuable features, this is easily among the best light for a chicken coop in winter. It's a great choice if you want to cover a large area with bright white light.
---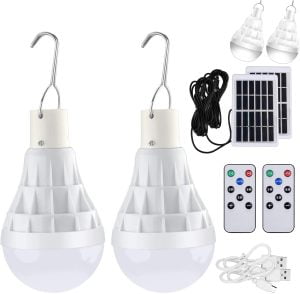 Do you want portable solar lights that you can use for your chicken coop and camping as well? Then meet the Lampelc LED lights that can run by both electricity and solar power. This is the best light for chicken coop with portable solar lights.
As the lights come with two solar panels and power supply cords, you can either charge the batteries using solar power or use your house's electricity supply to illuminate your chicken coop. The lights only feature a small hook at the top so that you can easily hang them on your roof, walls, or a tree.
Each light has 12 LED beads giving you cool white light and reaching the brightness level of 110 lumens when fully charged. You can easily cover a 5-meter area with a single light. These solar chicken coop lights can serve for 48 hours with fully charged batteries. However, the brightness will decrease after a few hours of use.
Thanks to the remote control device, you can easily change the intensity of the lights. You can set it to 100% for increasing the egg production of your commercial layers. Or, the light output can be brought down to 50% and 25% according to your requirements.
Although the solar devices aren't waterproof, they can hold up against extreme heat and cold. The lights can easily survive up to 500,000 hours of use in any given weather condition. Since the package includes 3-meter long power cords, you can keep the solar panels outside while the LED bulbs illuminate a large indoor area. The best light for chicken coop with portable solar lights, pros and cons.
Short Verdict
Lampelc LED lights are for those who want portable lights that support different intensity settings and use both electric and solar power.
---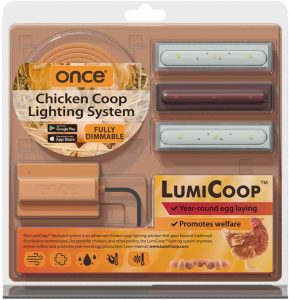 As a poultry owner, you surely want to promote your chickens' health and ensure the highest egg production. LumiCoop offers you an advanced lighting system with red light wavelength so that you can receive the most satisfying production all around the year.
For promoting healthy growth, the package includes 3 LED lights, including a red light. The saturated red light features spectrums of green and blue lights as well to promote the growth and production of eggs. Also, the two lights provide sufficient lighting during the fall and winter when your hens stop laying.
Since the package includes all the necessary parts, the installation will be a breeze for you. An 8-feet long cord will help you to place the lights at different positions. However, users have found it difficult to cover larger areas due to the short length of the cord.
The package includes a control panel and an adapter to install it near your chicken coop. You can use this controller to manually turn on and off the lighting system. For setting up the timer and controlling light output, you need to install a mobile app. You can control the system from up to 10 feet distance using the mobile app.
Although the system runs on electricity, it also supports solar compatible batteries that you need to purchase separately. As the LED light is energy-efficient, you can save 50% of your energy costs. Keep in mind that the lights are made of plastic and suitable for only indoor uses.
Short Verdict
This lighting system can be a great way to provide sufficient white light for creating a healthy environment and red lighting for producing more eggs.
---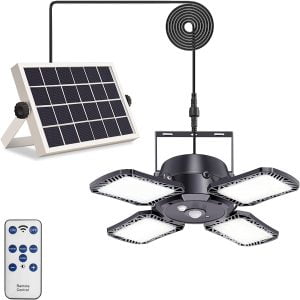 A super-advanced light with a very unique design, this particular light from Yomisga is an absolute all-rounder with all its excellent features.
While most solar panels fail to maintain their light intensity during the daytime, the Yomisga solar light provides you with 24-hour high-intensity lighting. You can easily change the brightness with remote control up to 1000 lumens. As the light consists of 128 LED beads, there will be no extra heating issues.
Made from IP65 materials, this light can survive rain, snow, and high heat. A 16.5 feet long cord ensures that you can easily set it anywhere indoors or outdoors. The polysilicon solar panel is super efficient and uses solar power only to lighten up your chicken coop.
As the light has a split design featuring 4 adjustable arms, it looks unique and capable of covering a larger area. You can rotate those arms at 120 degrees angles to set up the lighting as per your needs. Moreover, the solar panel is also adjustable and you can set it in any direction to increase its efficiency.
The best part? Yomisga offers you motion-sensing solar chicken coop lights, and you can set the solar light at four working modes so that the brightness and motion sensor of the light adjust automatically.
Moreover, the motion sensors work even in daylight, and the mode settings allow you to provide constant lighting for your chickens during the night.
Short Verdict
You can opt for this modern and highly convenient light if you want to illuminate a large chicken coop with the brightest lighting.
---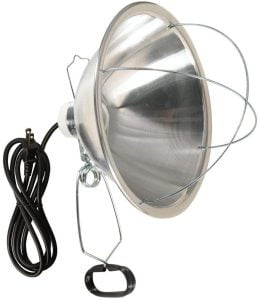 Let's face it, all of us want the finest features at the most affordable prices. This clamp lamp by Woods offers strength, efficiency, and durability while being incredibly cost-effective. The best light for chicken coop from Woods.
Made from super-strong aluminum materials, the reflector can survive years of use even if you use them outdoors. This 10-inch reflector allows you to focus the lighting on one particular area. Also, you can easily adjust the reflector in different directions.
For preventing rust, the reflector features a smooth and durable finish. Any E26 light bulb with a medium base can be fitted inside the reflector. Also, the light wattage can be anything between 60 to 300 watts. The clamp also features metal bulb guards to protect the light.
To make the installation process easy for you, the reflector has a ball joint and spring clamp grips. You can clamp the light on your walls, roof, and any type of stand. The clamp grip is scratch-resistant, and it doesn't leave any marks behind.
One downside of this product is that it doesn't come with any light bulb. Also, aluminum is a great heat conductor, and the temperature of the reflector will rise if you use any hot lamp or incandescent bulbs. The best light for chicken coop from Woods, pros and cons.
Short Verdict
The Woods clamp lamp reflector is a cost-effective option with durable construction, and it can generate focused lighting in small and medium areas.
---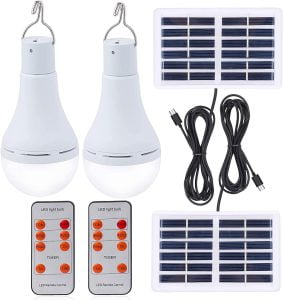 To wrap up our list, we picked another solar light that's bright, flexible, and full of advanced features. Meet the portable solar light bulb by Afoskce.
What makes this light truly incredible is its unique structure. A PC shell covers the light from top to bottom and makes it sturdy enough to withstand various environmental conditions.
There's a small hook at the top that allows you to easily hang the light. Also, the charging indicator tells you when to connect and disconnect the light from the solar panel.
A remote control allows you to set the timer for 30 minutes, 2, 5, or 10 hours. It also manually turns the light on or off. You can use the remote to control the light's brightness from 75 lumens to 300 lumens.
When you turn on the light sensor mode, it will automatically switch off the lights during the daytime and turn them on at night.
The 1500mAh rechargeable battery can be used for 5 to 22 hours, depending on the intensity of the light. You can use the provided solar panel to charge the 3.7V battery, or you can use a USB micro socket to charge it by electricity.
Since the light feature 20 high-quality LEDs, the output is bright, which is great for promoting the healthy growth of your chickens. The package includes 2 light bulbs, 2 remote controls, and 2 solar panels with long cords for indoor uses.
Short Verdict
All the incredible features of this light make it the best light for chicken coop with a timer. You can opt for this one to promote the production of eggs and enjoy maximum flexibility.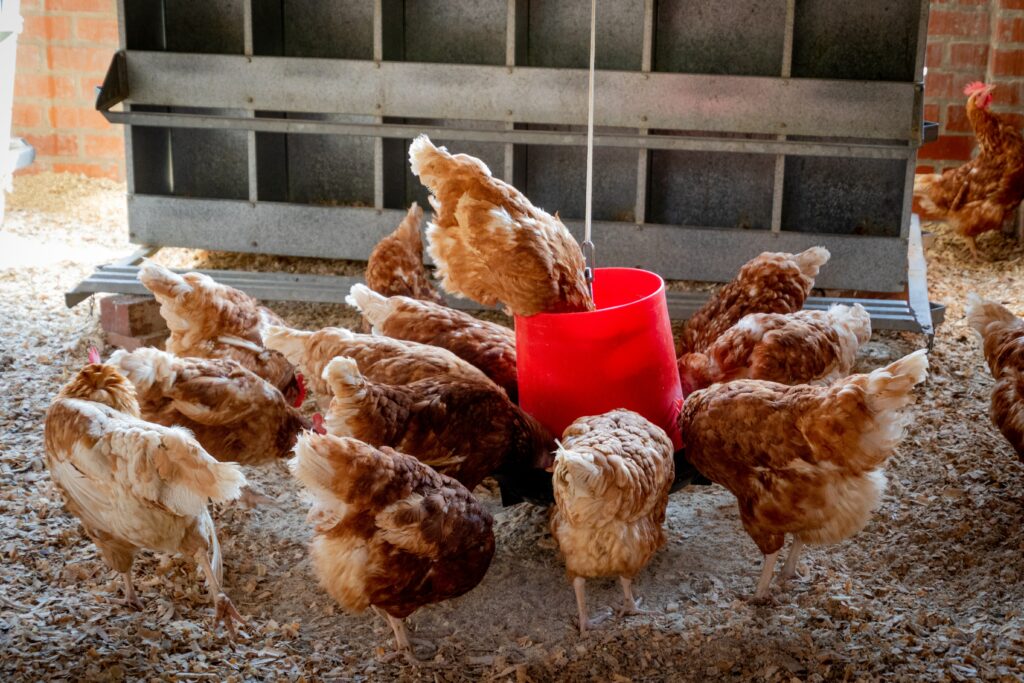 ---
Our Top Pick for the Best Light for Chicken Coop
As we have already introduced you to our top picks, it's time to give our final verdict and choose the one best light for your chicken coop. According to us, the Yomisga Solar Light with Motion Sensor is the best chicken coop light.
This remote-controlled light offers you up to 1000 lumens of brightness, and it can be dimmed as per your needs. Made from waterproof materials, the light has sturdy and flexible construction with adjustable arms.
And the motion sensor is just icing on the cake. With all these useful aspects, Yomisga wins the title of the best light for chicken coop.